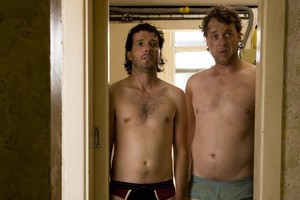 Two years ago it was Boy. This year it's Two Little Boys, which, in its world premiere, has given the Berlin Film Festival a different taste of Kiwi humour and a lesson in the habits of the great southern bogan.
The movie starring Bret McKenzie has three sold-out screenings at the first of the year's major film festivals - which was also the launching pad for Taika Waititi's Boy in 2010. It opens in New Zealand in September.
Two Little Boys has been cited in the Hollywood Reporter as one of seven films to watch out for in Berlin's bustling market.
McKenzie, busy on Oscar campaign duties for his Muppets song, was not in Berlin. Neither was director Robert Sarkies - he and partner/producer Vicky Pope are in Wellington for the birth of their first child.
It is Sarkies' third feature, a return to the black comedy of his debut, Scarfies, after depicting the Aramoana massacre in Out of the Blue.
It was left to the director's novelist and screenwriter brother, Duncan Sarkies, upon whose 2008 book the film is based, to face the Berlin audience and explain his characters - Nige (McKenzie) and Deano (played by Hamish Blake from Australian comedy duo Hamish and Andy).
"In New Zealand we call them bogans. I know around the world they have different names, white trash or Eurotrash depending on where you go, but I certainly spent a part of my teenage years growing up in that environment.
"I was doing a lot of exploratory writing when these two really foul-mouthed characters kept coming up in everything I wrote. I definitely knew they needed a story."
If some expressions like "cark it" went over the audience's heads, they appreciated the craziness and poignancy of the characters.