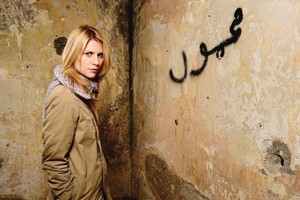 What would the Brothers Grimm make of Once Upon a Time (Thursdays, 8.30pm), TV2's new fairy tale series?
"I'm sorry. She's gone," one of the seven dwarves intoned as Prince Charming rode in on horseback to save a Grey's Anatomy patient. Oops, I mean Snow White. He kissed her back to life, a magical moment, followed by star Ginnifer Goodwin's mumbling. "Truthfully?" she said, like a Valley girl waking from a drug-induced coma. Then something about a coffin. I've never really been much of a GG fan. She seems to be stuck on a loop of damsel-in-distress roles like in He's Just Not That Into You.
When she said "I do", she shook her head, as if she was really thinking, "Why did I have to get such a sap for a husband? Maybe I should booty-call Sleeping Beauty's man after the wedding."
Thankfully, the next part, set in the present day, redeemed the strangely casual tone of the fairy tales. Even Goodwin, as a school teacher, improved.
A precocious young boy came to visit Emma (Jennifer Morrison), telling her she was his son. He took her back to Storybrooke, Maine (get it?) - where the world's classic fairy tale characters supposedly hang out - and where she'll probably get the news she's descended from some of them. Rumpelstiltskin (Robert Carlyle) is Mr Gold, who owns the town. The evil Queen is the boy's (probably evil) mother.
I like the concept. Classic characters transplanted to the modern day, stripped of their happy endings because they live in the real world. Hollywood has successfully modernised Shakespeare; why not the stories we all grow up with?
With Lost writers Edward Kitsis and Adam Horowitz on side - this was a project they put off until Lost finished - it has promise, even if parts of the pilot had an oddly flaky tone.
Also bipolar is Claire Danes' character, Carrie Mathison, on Homeland (Mondays, 9.30pm, TV3), the thriller for which she won a Golden Globe. Her intensity doesn't let up, from the moment an Iraqi prisoner tells her an American POW has "turned" to al Qaeda, to her erratic bugging of his family home on his triumphant return. But did she mean to slam the communication van door shut? She was annoyed after her surveillance buddy questioned her use of anti-psychotic drugs. They were, after all, trying to be discreet as they spied on Marine Sergeant Nicholas Brody meeting the wife of the POW who died (at his hands, it later transpired).
Band of Brothers star Damian Lewis, as the unreadable war hero, kept viewers guessing too. Did he kill the prisoner because he chose to or because he had to? Was that a coded message he was sending in front of the TV cameras or did he have a bung nerve in his finger? What kind of moisturiser does his wife use? Because her skin is incredible for a woman whose family has been put through that level of stress.
With the exception of David Harewood as Carrie's boss, who over-egged his lines, and the opening scene in which Danes jogs through the streets of Baghdad, for the most part the military end of the show felt convincing. Elsewhere it felt a little clumsy. It makes sense to elevate the drama of Brody's homelife. After all, it's from within the family home that he will be watched. But the long shagging scene between his wife and best mate? The pot-smoking daughter? Haven't we seen this before? Luckily, Homeland is so compelling it can almost get away with it.
-TimeOut