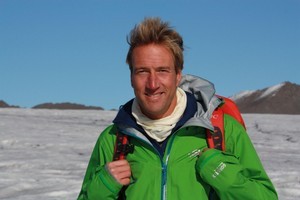 British daredevil Ben Fogle tells Scott Kara why his latest thrill-a-minute adventure series was his most challenging to date
It was a jelly bean that got adventurer and self-styled layman daredevil Ben Fogle in the end. For his latest TV series, Lonely Planet's Year of Adventures, he had been around the world and done everything from survive the treacherous via ferrata trails in Italy's Dolomite Mountains to completing a solo sky dive after just six hours of training.
"It was the standout challenge in terms of pure fear because all I was worried about was the free fall and pulling the rip cord to make sure the parachute opened. I didn't even think about landing the thing," he remembers with a laugh.
But late last year at a party, Fogle and his mates were throwing jelly beans around, as you do, and when he caught one in his mouth part of the lolly got lodged in his throat. He had to undergo surgery to remove it.
"Life works in funny ways," he laughs again on the phone from his home in London. "And I don't even like them. It was just a drunken flick of a jelly bean."
But it's his on-screen antics, rather than drunken ones, that Fogle is best known for. His past TV work includes the documentary Prince William's Africa, where he accompanied princes William and Harry to Botswana, travel show Extreme Dreams With Ben Fogle, and last year's The Secrets of Scott's Hut, which included a trip to New Zealand during filming.
Year of Adventures, which starts on BBC Knowledge this Saturday at 8.30pm, is based on travel bible Lonely Planet's book of the same name.
During the five-part series he takes on The Anaconda, a run, kayak, swim and cycle race through the wilds of Western Australia, attempts the perilous swim from Alcatraz Island to San Francisco, and scales the 120m high Castleton Tower, a sheer rock face in Utah.
In the third episode he tackles a mountain run in the Dolomites alongside New Zealander and eventual race winner Jonathan Wyatt, before doing the 24 Hours of Moab mountain bike, race also in Utah. The series is probably his most challenging because it involves many different disciplines, and he had to learn how to do everything from rally driving to sky diving solo.
"My motivation in life is not necessarily winning, but it is definitely seeing things through and doing them," he says.
Not that there is much failure on Fogle's part during the show - much to the disappointment of his producers.
"I think they were hoping there would be some," he laughs, "and the series could cope with some failure, but I wanted to really get through it all and succeed, and I did that, but it took it out of me."
He openly admits he's no Bear Grylls, and he describes his style as "accessible adventure".
"We chose challenges anyone can do," he says, though one doubts whether many people would be willing to take on Castleton Tower, which Fogle admits was his hardest challenge.
"I didn't think we would complete that one. It was the one when I looked at it and shook my head and thought there is no way we can do this. But the key to the series is that I like to describe myself as the layman, as the everyday person who does these things, and I'd like to think the show shows people how to face these challenges."
LOWDOWN
What: Lonely Planet's Year of Adventures
Who: Ben Fogle, British adventurer and TV presenter
Where and when: BBC Knowledge, Saturdays, 8.30pm
- TimeOut