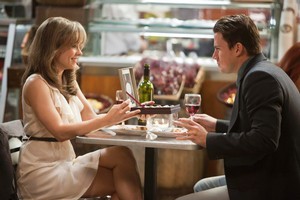 Fans of author Nicholas Sparks will be forgiven for thinking one of his stories inspired this sweet love story, and The Vow certainly sits comfortably alongside The Notebook and Nights in Rodanthe.
It's actually the debut feature of television director Michael Sucsy, inspired by the true story of a woman who suffered a brain injury in a car accident and no longer recognised her husband.
The story has been given the Hollywood once-over, and emerged as glossy entertainment, rather than the emotionally charged tragedy you imagine it must have been.
The Notebook's Rachel McAdams has form in this genre and her portrayal of the victim, Paige, is as charming as you'd expect, while her co-star Channing Tatum also has experience with romantic drama (Dear John).
They have good chemistry together, although Tatum struggles somewhat to make his character appear genuine. With his football-star looks, soft sensitive and artistic side, and utter devotion to his wife, you can't help but feel he's been moulded into the "dream guy" for the female audience.
A romantic drama rather than a romantic comedy, the injection of a few more laughs along the way would have eased things along.
The story of a young couple getting to know each other again after the accident is great material to make an audience laugh and cry, and consider what they'd do in this situation. It's not an opportunity Sucsy has taken, preferring for The Vow to play this out as a rather predictable and earnest drama.
Stars: 3/5
Cast: Channing Tatum, Rachel McAdams, Sam Neill
Director: Michael Sucsy
Running time: 104 mins
Rating: PG (Nudity & coarse language)
Verdict: A sweet and earnest romantic drama
-TimeOut