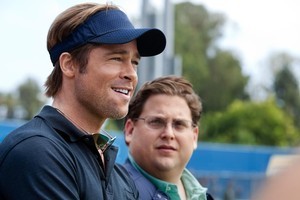 MOVIES
This week two more big-hitting Best Picture Oscar contenders appear on NZ screens. True story baseball strategy movie Moneyball stars Brad Pitt as baseball manager Billy Beane who is determined to overcome a long losing streak using new analytical methods proposed by young Peter Brand (Jonah Hill). It may be a film about statistics, but its stellar cast elevate it to something much more charismatic.
Meanwhile Pitt's mate George Clooney teams up with Ryan Gosling (what a swoon-worthy duo) for political drama The Ides of March, in a struggle of shifting loyalties, and tricky questions about victory and virtue.
There's also another true story adaptation released - Big Miracle retells the tale of three whales stranded in an ice hole in Alaska in 1988 and stars Drew Barrymore.
TV
We're a couple of months behind, but this Sunday at 7.35pm, Prime are screening the latest Top Gear Christmas Special ahead of a new season starting next week.
But this is no white Christmas, this year the team set off to India with various British products, including three cars, determined to promote the motherland to the East. Some of the Indian responses are truly memorable, and footage of the team driving down the highway in the middle of the night is genuinely scary.
Also this week we see the return of the much anticipated third local series of MasterChef. Come Tuesday night at 7.30pm on TV One we get to see the fresh new batch of hopefuls, ready to put their culinary skills on the line.
MUSIC
The second annual Northern Soul Weekender starts at Golden Dawn on Friday evening, moves to InkCoherent on Saturday night, and then Ponsonby Social Club come Sunday with more than 10 DJs playing each night, bringing the best in up-tempo, dance-based soul music known as Northern Soul, a movement growing out of Britain in the late 60s. There's another three-day festival happening too, also with soul leanings, but this one is outdoors at Tapapakanga Regional Park - Splore is a melting pot of music, dance, visual and performance art, and has American soul queen Erykah Badu and Brit legends Soul II Soul headlining. Meanwhile in Auckland, Roger Waters kicks off four dates performing his latest show The Wall Live at Vector Arena on Saturday, and earlier in the day, local alt-pop gentlemen the Phoenix Foundation will be performing for free down at Silo Park from 12pm.
OR...
head down to Queen St in the CBD, which is being turned into a giant car-free sports park for Sunday from 10am. Get your shorts and trainers out, grab your kids or friends and go try your hand at everything from football, squash, cricket, badminton and netball, to cycling, zumba and aerobics.
-TimeOut