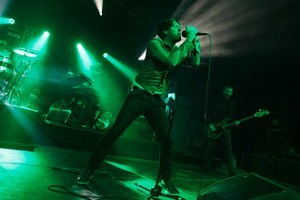 Well, perhaps saying "I predict a riot" might be taking it a bit far, but there's sure to be some excitement when post-punk-rock Brit five-piece Kaiser Chiefs head to NZ for the first time this May. Their second album Yours Truly, Angry Mob, went number one in 2007 and since then they've earned a reputation for rowdy sing-along live shows. Their fourth studio album The Future is Medieval was released last year with some innovative "pick your own tracks" marketing strategies, intriguing many fans. They're at the Powerstation in Auckland on May 10, tickets available from February 24 through Ticketmaster.
Canadian vocalist and guitarist for post-hardcore band Alexisonfire, Dallas Green is also an award-winning singer-songwriter, going under the clever moniker City and Colour. Drawing influences from artists as wide as Bon Iver and Neil Young, he'll be bringing his melodic rock troubadour act to New Zealand for the first time, at the Auckland Town Hall on April 29. Ticket details are yet to be released.
Also scheduled for the Town Hall are American R&B acts Bill Biv Devoe and Ginuwine who visit New Zealand for the first time on May 28. Incidentally, BBD formed out of the ashes of New Edition - the band fronted by Whitney Houston's former husband Bobby Brown - when members Ricky Bell, Michael Bivins, and Ronnie DeVoe joined forces.
Tickets available from February 21 at buytickets.co.nz.
Meanwhile, Australian singer-songwriter and one-man-band Xavier Rudd plays the Kings Arms on April 13 and Wellington's Bodega the night after in support of his new single, Follow the Sun.
Tickets through Ticketmaster on February 14. He also plays Wellington's Bar Bodega on April 14.
And lastly British band Elbow have announced a second show at the Powerstation on March 29 due to popular demand.
Twenty-two years of hits, onstage
Shihad are heading back out on tour but the perennial Kiwi rock band's latest jaunt will be their meanest yet.
Inspired by the double-disc best-of, released late last year and entitled The Meanest Hits, Shihad will be playing a 100-minute set - divided into two parts - taking in all the hits and, more importantly, all the band's favourite songs from their 22-year career.
In the first half the band will pay tribute to their early days - when they gigged hard from Wellington to Whangarei and Prague to hick little towns in Texas - by playing songs from their debut EP, Devolve, and their first three albums Churn, Killjoy and Shihad.
So expect to hear everything from rampant Metallica-meets-Slayer homage It to the beautifully weighty Deb's Night Out.
Meanwhile, the second part of the show moves into the "big-stage era, where Shihad grew wings and a swagger and ramped up production" taking in albums from The General Electric through to 2010's Ignite.
The shows kick off in Hamilton at Altitude on April 4, followed by Brewers Field, Tauranga, April 6; Coroglen Tavern, Coromandel, April 7; and the Powerstation, Auckland, April 8 before heading to the South Island and a hometown show in Wellington on April 14.
The tour announcement also came with a nice bit of trivia about the band. The story goes that in 2006 they were playing the Shepherds Bush Empire in London with support from an AC/ DC covers band who had two singers - one to cover the early Bon Scott repertoire and the other the Brian Johnson era. But the covers band had split up, so after a quick meeting the Shihad lads asked the promoter to send the Bon Scott singer along and they would play for him. So Shihad supported themselves as an AC/DC covers band, with a pretty good Bon Scott impersonator. Who knew?
For more information and presale tickets, which go on sale Feb 21, go to shihad.com.
-TimeOut