Jonathan Ganley photographed New Order and John Cooper Clarke at their first New Zealand appearance at Mainstreet Cabaret, Auckland on December 3 1982.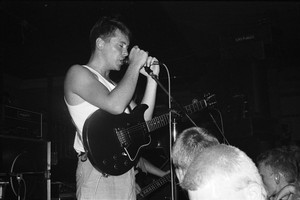 In December 1982 New Order gave us a glimpse of the electronic future when they played two shows at Mainstreet Cabaret in Auckland, supported by the "punk poet" John Cooper Clarke.

The night before the first show, I went with some friends from Radio B to a reception for the group. The location was a club tucked behind Mainstreet, and we waited for the enigmatic Mancunians to appear. Eventually I recognised Peter Hook in the crowd, but saw none of the others.
It was past midnight when some of us went on to the Barrycourt Motel in Parnell, where the touring party were staying. Picture a typical 1970s' New Zealand motel room, occupied by some of the group and many hangers-on. Bernard Sumner was passed out on the couch, but Steve and Gillian were livelier. We chatted for a bit to the guy who was looking after New Order's synths and sequencers. The technology was still in its infancy and causing a lot of problems.
A bespectacled old guy with grey hair and beard surveyed the scene from a chair in the corner. Must be Gillian's dad, I thought. He asked after "Johnny Claaaarrke" who was apparently "feeling poorly". This guy seemed very happy with his bag of weed, chain-smoking spliffs and making laconic remarks. I realised much later that this was Rob Gretton, manager of Joy Division and New Order, co-founder of Factory Records and the driving force behind Faç51 - The Haçienda. Gretton's blunt management style became legendary, and the "old guy" was actually in his late 20s at that time.
When you're 18 and living at home and want to go to the most eagerly anticipated show of your life, it's not a good idea to come home that morning at 3am. I was not popular. But I grabbed my camera and made it to Mainstreet, claiming a spot at the front of the stage. A cheerful John Cooper Clarke appeared, inscrutable behind his Ray-Bans, looking like a stylish cross between '66 Bob Dylan and a highwayman. He ran through some of his repertoire of rapid-fire doggerel and told a joke or two. Everyone knew his poems, word-for-word.
New Order followed the script as described by the UK music press. They didn't say a word, they didn't play Joy Division songs, they didn't do an encore. I was at a party a year or two later and heard somebody moaning about how they just stood there while the music played. It was true that a lot of the music was sequenced, and they certainly had the technology - the Simmons drum pads and an Emulator, which was the last word in sampling keyboards in 1982 (utilising the five one-quarter-inch floppy disk that inspired Peter Saville's design for the Blue Monday sleeve).
What can you say about a concert 30 years later? I looked at the setlist online. There's no way of knowing if it's accurate. I remember watching the final song from the stairs at the back of Mainstreet. They played In a Lonely Place, and it sounded beautiful but chilling. But that was the old New Order. It was the newness of the sound of the unfamiliar songs that was so compelling. Until that night I had never heard electronic rhythms and synths and sequencers so loud and clean before, and it was amazing to be right inside that pulse, inside that synthetic heartbeat for the first time. I felt at home inside their music, a part of that electronic whiplash sound that was set to take over the world.
Jonathan Ganley has a photoblog at pointthatthing.com (search on the blog for New Order to see more photos), and also contributes to publicaddress.net/capture.
New Order plays Vector Arena in Auckland on Monday 27 February.
John Cooper Clarke plays the Dunedin Fringe Festival on Wednesday 21 March, Kings Arms in Auckland on Thursday 22 March, Bodega in Wellington on Friday 23 March, and Marchfes in Nelson on Saturday 24 March.
Who: New Order w/ John Cooper Clarke
Where: Mainstreet Cabaret, Auckland
When: Friday 3 December 1982