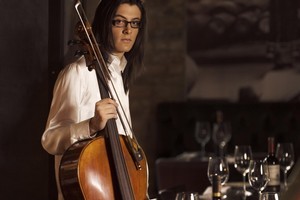 A week from today, 55 of the country's most talented young musicians will take their places on the Town Hall stage. After tempting our palates with two overtures, including Mendelssohn's A Midsummer Night's Dream, the NZSO National Youth Orchestra will present a tasty Russian main course of Stravinsky and Shostakovich.
The soloist in Shostakovich's First Cello Concerto will be 16-year-old Santiago Canon Valencia, the Waikato wunderkind who carried off top prize at the 2010 Beijing International Cello Competition.
The responsibility for the NYO's many activities lies with Claire Lewis who, for some years, has overseen the New Zealand Symphony Orchestra's education initiatives. Lewis started off as a singer with Welsh National Opera but found herself drawn to the company's various programmes, taking opera outside the opera house.
"There's no doubt that music enhances our lives," she says. "And arts organisations have a social responsibility to provide pathways for people to engage with them.
It's a privilege to facilitate something as meaningful as access to music."
Last October, the orchestra had the thrill of accompanying Placido Domingo as part of a Christchurch benefit concert. "It was an extremely great challenge, both in terms of the musicians having to play in front of 8000 people and also in dealing with the operatic repertoire. Tosca is not an easy play."
Most importantly, she feels, Christchurch validated the NYO's expanded programme, giving its players a full year's experience rather than just one annual get-together.
"Reassembling the orchestra so soon after its August residency gave us the chance to consolidate the work done with conductor James Judd," Lewis reflects.
In the past the NYO has grappled magnificently with symphonic titans, from Mahler's Seventh to Shostakovich's Tenth. "There will always be a big project in August-September featuring one of the mainstay large-scale 19th or 20th-century works," Lewis says.
One visible and immediate indication of the NYO's success is the flurry of Facebook postings after each concert. Lewis has her own treasured thank-yous - one being a letter from a player's father attesting to what she describes as "the transformative power of music".
Players have their own stories. Hamilton violist Sebastian Lowe is now in Norway, studying at Bergen's Grieg Academy. Two years with the NYO in 2009-10 cemented his resolve to turn from anthropology studies to focus on a professional music career.
Lowe remembers the Mahler Seventh as "a monster of a work", while, the following year, John Adams' The Chairman Dances was "a fun and challenging one - and so great to be part of an up-to-date contemporary work."
Of his two conductors, he best remembers Rossen Milanov with his passion for food metaphors. "Rests are like lettuce - they don't taste nice so don't eat them," says Lowe, recalling one of the quirkiest.
Inspired by his NYO stint, Lowe studied in Europe and, once in Bergen, was soon playing for the local opera house and taking part in a Hans Werner Henze performance with a contemporary ensemble. Now he has passed an audition for two weeks in the Bergen Philharmonic, "which should be good fun", he says. "Especially as there are two other Kiwis and NYO alumni in the orchestra, violinist Julia Dibley and cellist Ben Nation."
For Lowe, the NYO offered "two thrilling and important years in my development as a musician", an assessment that would strike a chord with all of the players in next Saturday's concert.
Performance
What: NZSO National Youth Orchestra
Where and when: Auckland Town Hall, Saturday February 18 at 8pm