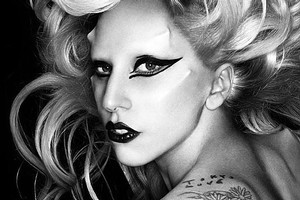 Get your wackiest outfits ready and prepare for the monster ball - Lady Gaga has confirmed a "spectacular" June show in Auckland.
The reigning Queen of Pop will perform for her "little monsters" at Auckland's Vector Arena on June 7 as part of her Born This Way Ball world tour.
In a statement, Gaga said the show would be "spectacular".
"The Haus of Gaga and I have worked for months conceiving a spectacular stage," she said.
"The Born This Way Ball is an electro-metal pop-opera; the tale of the beginning, the genesis of the kingdom of Fame.
"How we were birthed and how we will die celebrating."
The eccentric singer has been teasing fans on Twitter and Facebook with sketches of her stage design and posted a picture of the first official tour poster.
Coloured in a black and white palette with purple and green highlights, it shows the star's alien alter ego appearing in the cloudy night sky over a castle.
It will be Stefani Germanotta's third visit to New Zealand after playing support for the Pussycat Dolls in May, 2009, and two sold out shows in March, 2010.
Gaga is known as much for her crazy costumes - she wore a meat dress at 2010's MTV Video Music Awards, and emerged from an egg at last year's Grammys - as her hit songs, of which there are many.
She hit it big with Poker Face, Just Dance and Paparazzi from her 2008 album The Fame, and followed it up with Marry the Night and Judas from last year's Born This Way.
Of her 2010 shows, reviewer Scott Kara said they were as much about the costumes as the music.
"The show is a spectacle with a full band and troupe of dancers, multiple costume changes, and special effects including everything from a burning piano through to a scary monster who looks like a deep sea fish, giant squid, and some sort of Doctor Who creature morphed into one," he said.
Just the one Auckland show has been announced for June 7, but Gaga doesn't have another gig scheduled until June 13 at the Brisbane Entertainment Centre, so there could be room for more.
Pre-sale tickets go on sale on February 13 through www.visaentertainment.co.nz.
They go on general release on February 17 through www.ticketmaster.co.nz.
What: Lady Gaga
Where: Vector Arena, Auckland
When: Thursday, June 7
-Herald online with AAP