Each week Duncan Greive performs some low grade analysis on the week's New Zealand Singles Chart and reviews a few new release pop singles.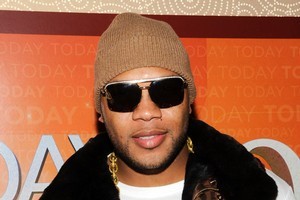 Since this column started being published on VOLUME's pages within nzherald.co.nz we've started to get awesome Dad rockish comments like this from Russell in Albany: '"Most exciting band in music today", eh? Says a lot about music today, really.' And mostly I describe One Direction and The Wanted as "the most exciting band in music today" precisely because it makes people like Russell mental. And (obviously) because those new boy bands rule. But you get my point, right?
Anyway - mostly I find it really hard to see merit in the arguments of better-in-my-day guys. Just a cynical, depressing way to envisage the world, as constantly sliding deeper into a pit of shit. That doesn't give much hope to the children you fuss over so much. But despite all that I just can't find anything to love about Flo Rida. Or to hate. Or just anything to grab hold of at all. At least Pitbull used to have great taste in beats (c. 2006) and Guetta has a brutally effective way with melody, while looking hilarious in videos. But Flo Rida just sucks, and as long as he remains at the top of our charts (a month now) I'll be a bit sad.
There are also no new entries of any consequence. That Train song I made a lame joke about a couple of weeks back, and some white version of Bruno Mars named Andy Grammer who is actively making the world worse by his involvement in music.
RIANZ Top 20 New Zealand singles chart
1 Flo Rida ft. Sia - Wild Ones
2 Annah Mac - Girl in Stilettos
3 David Guetta ft. Sia - Titanium
4 Kelly Clarkson - What Doesn't Kill You (Stronger)
5 Snoop Dogg & Wiz Khalifa - Young, Wild and Free
6 Labrinth ft. Tinie Tempah - Earthquake
7 Ed Sheeran - The A Team
8 The Babysitters Circus - Everything's Gonna Be Alright
9 Pitbull ft. Chris Brown - International Love
10 Coldplay - Paradise
11 LMFAO - Sexy and I Know It
12 David Guetta ft. Nicki Minaj - Turn Me On
13 Six60 - Only To Be
14 Titomatic - Set It Off
15 Christina Perri - A Thousand Years
16 Cher Lloyd ft. Mike Posner - With Ur Love
17 Gotye ft. Kimbra - Somebody That I Used to Know
18 Rihanna ft. Calvin Harris - We Found Love
19 One Direction - What Makes You Beautiful
20 The Black Keys - Lonely Boy
Single of the week: TYGA - Rack City
VOLUME rating: 8/11
The second SOTW for Cash Money and we haven't touched Drake or Nicki Minaj yet. Anyone who has watched the strange, unnerving documentary The Carter won't have come away thinking "those guys are A&R geniuses right there", but give them credit, they've shown an ability to make stars and revive careers that'd be the envy of anyone in the industry.
Which is not to say Tyga's a future star - he might be, but this alone won't make it so. Rack City is just a classic sleazy strip club anthem, a 2012 take on The Whisper Song or Back That Azz Up. It's not quite on the level of either of those immortals, but remains much of what's gratuitously great about this style when well executed. Which is to say the beat is two or three low synth notes rolling, with percussion kept to a minimum - all musical and vocal elements basically honour Mark E Smith's "Three R's: repetition, repetition, repetition".
Plus any rapper able to deliver lines like "got your grandma on my d***" with a mirthless chuckle afterwards will always be alright in my book.
WZRD - Teleport 2 Me, Jamie
VOLUME rating: 7/11
A 'rock duo', consisting of Kid Cudi and Dot da Genius, a long-time collaborator of the former, this single rides a large and prominent sample of Desire's Under Your Spell from the Drive soundtrack. The latter initially felt like the clear bronze medallist from the trio of songs which enraptured people from that magical soundtrack, but over time it seems to have become the sentimental favourite, outpacing both A Real Hero and Nightcall. Which would be justice, really, as Jonny Jewel's imprint is all over the film and he has recently released the music he composed for its soundtrack, which is excellent. Anyway, WZRD's emo-rap single leans heavily on Cudi's very affecting baritone. The lyrics are lovelorn, a little hackneyed but allied to the bones of Jewel's production it still becomes pretty affecting, and there's an outside chance that WZRD LP could be pretty huge.
JACK WHITE - Love Interruption
VOLUME rating:7/11
The ex-White Stripes singer's solo LP is gonna be a hit. For all those who feel adrift from modern music, who can't get with Guetta and the rest, Jack White is something solid they can cling to. He's also a pretty gifted craftsman, and while I don't go and seek out music like Love Interruption, I can't deny its charms. A country-folk lament which rises in intensity throughout its two-and-a-half minute duration, this won't work at radio, but the masses who bought into Adele in a big way could do a lot worse with their lust for "reality" (whatever that is) than stay strong on Jack.
M.I.A. - Bad Girls
VOLUME rating:7/11
The official version of a song which has existed in a different form for a year, Bad Girls feels a little like M.I.A. on autopilot. Which isn't a bad thing by any means - she is one of those artists whose periodic leaping reaches can go either way - so the relatively conformity of Bad Girls is by no means a disappointment. The beat is a typical loping, dusty thing, that quasi-world music feel that has always been part of the attraction, while her chant-sung lyrics follow her usual routine. So while it's not extraordinary, there's enough there to hold your interest. The main issue is knowing what she's capable of at her peak, visionary pop which seems to exist outside of the forces acting upon the area more generally. So it gets docked points for the gap between this and what she's manifestly capable of producing, while remaining a far better song than 95 per cent of what's released on any given week.
*To submit or suggest a track for review email singles@volumemagazine.co.nz or tweet @duncangreive