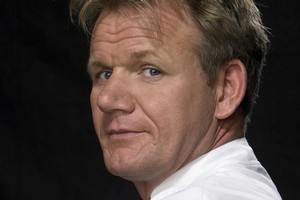 Celebrity chef Gordon Ramsay is making a flying visit to New Zealand to settle a legal dispute after he controversially pulled out of charity dinners for a sick Kiwi girl.
The famously foul-mouthed television star arrives in early March for what the Herald on Sunday understands is an attempt to resolve a court dispute with Duco Events, which is suing him for bailing out of the dinners last year. He will also use the trip for promotional work.
Duco was left out of pocket after the Hell's Kitchen star cancelled sold-out events in Auckland and Wellington. A settlement conference has been arranged to resolve the case.
Funds were to have helped 11-year-old Matisse Reid, who suffers from an intestinal disorder which means she can't eat and requires expensive American-based treatment.
A High Court hearing date had been set down for August 2012 but Duco director David Higgins said it was "possible" the case might settle out of court.
He was confident any decision would be in the company's favour: "We know exactly what the damage is and what we want. If that is achieved in settlement, great. If not, that is fine too. We will go to trial."
Ramsay was charging Duco $100,000 to appear at the dinners but cancelled because his mother suffered a heart attack.
Papers filed with the court allege Ramsay's mother had suffered only a minor heart problem and was out of hospital before the tour.
The dinners were rescheduled for October but Ramsay cancelled again, citing business matters.
To make amends Ramsay offered to make a donation to Matisse's charity chance2eat.
The distributors of Royal Doulton dinnerware confirmed Ramsay would be in New Zealand soon, promoting his product line for them. Ramsay is also understood to be planning a book-signing.
The legal battle is not the first for Ramsay. The celebrity chef recently settled a bitter public battle with his father-in-law and former business partner Chris Hutcheson.
Hutcheson was accused of hacking into emails and taking $2.5 million from Ramsay's restaurant empire to finance serial womanising.
Ramsay's wife Tana sided with her husband and severed ties with her parents, after discovering her father had secretly fathered a second family.
Ramsay has now scaled back his business empire in the UK. He is spending more time in California, where his TV career is taking off.
The Daily Telegraph reported that Ramsay had splashed out more than $8 million on a five-bedroom Beverly Hills mansion this week.
The father of four is filming his third season of US Masterchef this year and his new show Hotel Hell is due to start soon.
Waikato chef makes good
Gordon Ramsay's Michelin-starred protege is set to open his own restaurant - here in New Zealand.
Waikato boy Josh Emett made his name as Ramsay's head chef at the Savoy Grill in London; last year, he starred as a judge in MasterChef NZ; in April he will open his first restaurant - in Queenstown.
"I have always been drawn to Queenstown and the place is at the top part of the town," he revealed. "It's tucked away and nicely hard to find ... a little bit funky, a bit New York neighbourhood, and fun."
Emett has come a long way since his mother taught him to cook on the family farm in Ngahinapouri. He spent 11 years honing his craft at Ramsay's right hand.
Now he has parted with Ramsay amid rumours of a relationship breakdown.
He is also preparing to open a restaurant in London - where he would go head-to-head with his mentor.
For the first time, Emett acknowledged the two had parted somewhat acrimoniously, after the failure of Maze restaurant in Melbourne - owned by Ramsay but run by Emett.
The third season of MasterChef NZ goes to air on February 21 on TV One.