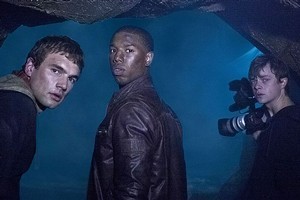 It's from a first-time director, uses no-name actors and continues the over-used trend of using "found footage" - Chronicle has all the right ingredients for a box office disaster.
Against the odds, the Josh Trank-directed feature film - this weekend's biggest local movie release - has received overwhelming praise. It follows a group of young men who discover they have new superpowers and use them for hijinks - both good and bad. Reviewers have compared it to 2009 hit District 9.
"A stunning superhero/sci-fi that has appeared out of nowhere to demand your immediate attention," said Empire reviewer Mark Dinning, giving the film four out of five stars.
"Chronicle is so clever about the absurd, and so much fun to watch, that I'm almost disappointed the ending doesn't leave room for a sequel," said Steve Persall from the Tampa Bay Times.
Check out the trailer for Chronicle:
Elsewhere, this weekend sees the release of J Edgar, Clint Eastwood's lengthy analysis to the founder of the FBI, played by Leonardo DiCaprio.
TImeOut reviewer Francesca Rudkin said there was plenty to like about the film but called it "ultimately underwhelming" in her three-stars-out-of-five review.
"Eastwood isn't interested in interpreting rumours and sticks largely to the facts. The result is a fair and credible biopic, but one which doesn't give us anything new," she said.
J Edgar has a 59 per cent approval rating on Metacritic.
Check out the trailer for J Edgar:
Finally, if you're up for a heartwrenching relationship drama - and let's face it, who isn't? - then you might want to check out Like Crazy.
Released late last year in America, Like Crazy stars Anton Yelchin and Felicity Jones as two young lovers wrenched apart and forced into a long distance relationship by a green card deportation.

"The actors keep their clothes on, but everything else is naked in Like Crazy, a romantic drama that makes other romantic films look obvious and calculated in comparison, said San Francisco Chronicle reviewer Mick LaSalle in a five star review.
Check out the trailer for Like Crazy:
Also released this week is Aussie comedy A Few Best Men and Spanish thriller Julia's Eyes.
- Herald online