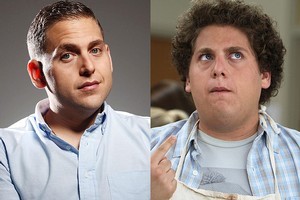 Jonah Hill has revealed his weight loss is down to adhering to a Japanese diet.
The Moneyball actor - who has been sporting a newly-trim physique in recent months - admitted while he wishes a "genie" could have made him instantly slim, he sought advice from a nutritionist on how to lose weight sensibly.
He said: "It was just mostly diet. I wish there was some crazy thing that I did, like a pill or a genie or something.
"But I went to see a nutritionist and he told me what to eat to change my habits and stuff. I found that Japanese food was very helpful to me."
The 28-year-old star also explained part of his decision to lose weight was because he was keen to move on from the typically comic roles he had played in movies such as Get Him To The Greek and Superbad and into more serious parts.
Jonah added in an interview with ABC: "I just had a moment in my life where I said I wanted to become a man. And that means with my career, with my life and that also means with my health.'
"I'm almost 30 years old - I'm not a foul-mouthed 17-year-old kid who's trying to get laid or whatever. I'm an adult man who takes his work really seriously.
"I'm an actor, I'm not a comedian, I never was a comedian."
- BANG! Showbiz