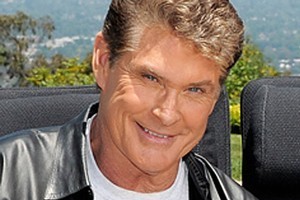 Cancel the confetti cannons: David Hasselhoff won't be shuffling down the aisle and tying the knot with girlfriend Hayley Roberts just yet.
The Hoff appeared to have popped the question to the Welsh model on top of the Sydney Harbour Bridge on Monday.
The 59-year-old actor teased fans by posting news of the romantic gesture on Twitter.
"Tried it again on top of the Sydney Harbour Bridge!" he wrote, alongside a snap of him down on bended knee in front of Roberts.
"What do you think she said!?" he added, followed by another shot of the lovebirds locking lips atop the Aussie landmark.
But he left his followers guessing over whether Roberts accepted the apparent proposal.
Roberts, 32, added to the mystery by posting a cryptic message on Twitter: ":-)))))) xxxxxxxxxxxx".
But The Hoff tells People that the proposal wasn't official.
"The truth is I'm having a fantastic time with this lovely lady but at this time we have no plans to marry," he said. "But who knows? As they say in Wales, 'Cymru Am Byth!' or Wales forever!"
Couldn't have said it better myself.
The couple has dated for nearly a year after meeting when Roberts asked for his autograph at the Britain's Got Talent auditions in Cardiff.
Hasselhoff proposed to Roberts twice last year - once in his Britain's Got Talent dressing room, and later as the pair holidayed in Cape Town - but Roberts said no.
The Hoff has previously hinted that he's ready to tie the knot again.
"I believe you should only marry people if you can't live without them," he told the Daily Mail.
"If you can live with them, live with them. Right now with Hayley things are getting better in every way.
"I've thought about the age gap and it doesn't bother me or Hayley I hope."
If he's serious about making things official, he'll have to win over his prospective mother-in-law first.
"She is saying no to his proposals," Roberts' mother told Radar Online in November.
"He keeps asking her and she likes him a lot, but she's still young."
She added: "At first I found the age difference difficult, but when you see them together they just get on really well so I don't worry so much now.
"It's more that she's young and it's a big commitment. I don't think she should jump into marriage."
The Knight Rider star was previously married to actress Catherine Hickland from 1984 to 1989. He then married Pamela Bach and had two daughters together - Taylor and Hayley - before divorcing in January 2006.
Blogger's briefs
And finally ... feast your peepers on this lot:
* Mamma mia! Lock up your sons: Lady Gaga's feeling broody and she's on the hunt for an Italian sperm donor.
* Swift exit: Taylor Swift no Longer cast in big-screen adaptation of Les Misérables. Actress Samantha Barks, who starred as Eponine in the London production of the show, bags the role instead.
* Off the market: Scarlett Johansson steps out in New York holding hands with a mystery man. Who is he? Mystery solved. He's an advertising executive named Nate, booms the Mail.
* Not preggo: Jersey Shore star Snooki trashes talk she's in the pudding club.
* Katy Perry in talks for 3D concert movie, confirmed to perform at the Grammys.
* Miley Cyrus splashes some serious cash on a new ride.
* Cheer up, James Franco, it might not happen.
* Botox? Not thanks. Gwyneth Paltrow says she prefers wrinkles.
* First look: Daniel Craig packs some heat and a beard as James Bond in Skyfall.
* Julianne Moore as Sarah Palin? Why not. HBO releases a brand-new trailer for TV movie Game Change, following John McCain's 2008 presidential campaign and his selection of Alaska Governor Palin as his running mate.
- Blogger Bites Back