Soul singer and social change advocate Aloe Blacc joins a Kiwi vineyard tour line-up, writes Scott Kara.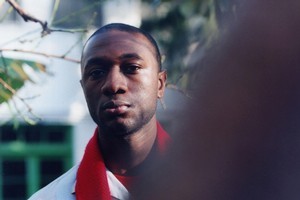 Aloe Blacc is a modern day soul man on a crusade for the good of human kind. That might sound like a grand cause but the singer, rapper, and musician from Orange County, California, is using his recently found fame to make it happen.
"I want to make positive social change, I want to make people happy with my music and I want to be able to expose the kind of issues that I think are important for people to know about."
But more on those pressing issues soon. Because first it was the catchy groove and staunch sentiment of his song, I Need a Dollar, released back in 2010, that got him noticed and in a position to try and make a difference in the world. The release of follow-up, Loving You is Killing Me, last year, with the video of Blacc and a cute young kid having a dancing duel, only added to his profile.
"I never expected I Need a Dollar to be such a massive success - as an indie artist I just hoped to make music that my friends will like and my niche audience like. But now that I have this visibility I plan to use it for the good of mankind."
Blacc and his band return to New Zealand after sell-out shows here last year for the More FM Summer Vineyard Tour with Australian roots rockers John Butler Trio, and locals Tiki Taane and Annabel Fay. It starts at Sileni Estate in Hawkes Bay on February 3 and finishes up at Turanga Creek in Auckland on February 11.
"They keep inviting me back, and people like my music, so why not?" he laughs.
Though he's played many festivals in his time, he's never done a winery tour before. "Certainly nothing as mature and seemingly respectable as this," he adds.
He's constantly writing music, so he will be playing new songs as well as tracks from his folk-hip-hop-soul debut, Shine Through, from 2006, and the pure soul of 2010's follow-up, Good Things. Of course, he wouldn't be let out of the winery alive without playing I Need a Dollar.
"I definitely want to have a party with my fans and I have some new things I want to test out and hopefully the people will like them."
And he will also be spreading his soul gospel. So what are the current issues Blacc is passionate about?
Lately he's been interested in the Occupy movement, the ideals of which he believes he was pushing on Good Things well before the movement was in full swing.
"It's great that people are going out and presenting this outcry against corporate greed. I'm really pushing for people to recognise the power they have as consumers. And I think people recognise more that they have the power in their own wallets and to be more conscious about the products you purchase, and to make a choice about whether you want to support a company that is engaging in slave labour."
Not that Blacc's music comes across as preachy. Because songs like I Need a Dollar, the reggae-tinged Miss Fortune and the solid funk of Hey Brother are made for dancing and mooching around to as well.
"The music that I do is often very conscious about what's going on in society, either globally or domestically in the United States; I try to find ways to entertain people but also educate them."
LOWDOWN
Who: Aloe Blacc, soul man
Where and when: More FM Summer Vineyard Tour, with John Butler Trio, Tiki Taane (acoustic) and Annabel Fay, Sileni Estate, Hawkes Bay, Feb 3; Bowl of Brooklands, New Plymouth, Feb 4; Turanga Creek, Auckland, Feb 11.
Listen to: Shine Through (2006); Good Things (2010)
-TimeOut