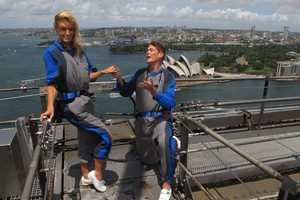 David Hasselhoff proposed to girlfriend Hayley Roberts, 28 years his junior, on top of the Sydney Harbour Bridge yesterday.
Hasselhoff, 59, posted the news on his Twitter account, but left his followers guessing over how Roberts, a Welsh factory worker, replied.
"Tried it again on top of the Sydney Harbour Bridge. What do you think she said?" he tweeted, alongside a picture of him on one knee and another of the pair embracing during a climb to the top of the Sydney icon.
According to reports, the father-of-two has asked the 31-year-old to marry him before, once in his Britain's Got Talent dressing room and again atop a mountain in Cape Town, South Africa.
Hasselhoff had previously hinted that he was ready to get married for a third time.
"I believe you should only marry people if you can't live without them," he said.
"If you can live with them, live with them. Right now with Hayley things are getting better in every way.
"I've thought about the age gap and it doesn't bother me or Hayley I hope."
The couple met when Roberts asked for his autograph at the Britain's Got Talent auditions in Cardiff, Wales and have been together for nearly a year.
The Baywatch and Knight Rider star has been married twice before, first to actress Catherine Hickland, and then to Big Brother contestant Pamela Bach, whom he divorced in 2006.
Hasselhoff is in Australia filming reality television show Celebrity Apprentice Australia.