Mayer Hawthorne's is a great story. Performing as hip hop DJ Haircut, he gave a couple of blue-eyed soul sounding tracks "as a joke" to Stones Throw Records boss Peanut Butter Wolf, who then asked Hawthorne to record a whole album in that style. VOLUME spoke with the man born Andrew Cohen about being Mayer.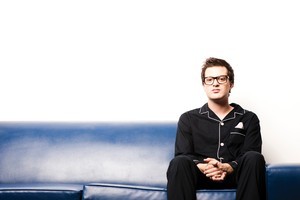 "It was a little daunting at first, for sure," Mayer Hawthorne tells me, speaking about recording his debut. "But people are really smart and they can sense when something is real and something is fake, so I knew I had to just be myself."
I'm glad he brought it up. One of the peculiar things about using different aliases for performing and recording different music is when only one of the aliases is lauded. The idea of hip hop DJ Haircut becoming the sharp-dressed ladies' man Mayer Hawthorne - essentially overnight - is fascinating, and has seen Cohen's authenticity come into question. "If I was playing a character, well, I'm not a good actor, so I think people would've seen through that and it wouldn't have worked like it did."
Beyond the challenge of writing an album's worth of material in one defined style, there was also the small matter of fronting a band for the first time.
"It was something I'd never really done - I'd never been the lead singer of any group." Cohen had been the bass player, the beatmaker, the one who provided a canvas for other frontmen to paint over.
"It was definitely something that took a lot of getting used to, but I had to bite the bullet, dive into the deep-end head first and say, 'Am I gonna do this or not?'"
There's little doubt he did it. The first track Cohen wrote as Mayer Hawthorne was also his lead single and an absolute gem. Just Ain't Gonna Work Out was one-part Dilla, one-part Smokey Robinson, yet totally fresh. The door opened to considerable success - and this is where it gets interesting: is it possible for someone who has found success in one style to progress that sound without losing their fan base? Cohen thinks so.
"That was kind of the main focus for the new album. I thought to myself, 'Why am I making this music with just one style when I grew up listening to every style of music?' I was really proud of the new record. I felt like it wasn't retro-soul, it wasn't throwback-soul, it wasn't new-soul - it was Mayer Hawthorne. I felt like I found my own sound."
That sound is rooted in his upbringing.
"Detroit is the shit, man! It's a beautiful place with a lot of creativity and a lot of amazing culture. It's also a really hard-working, blue-collar place to live, so I'm really grateful for that work ethic that was instilled in me early on."
Cohen grew up in Ann Arbor, Michigan, with an incredibly supportive family.
"I was really blessed to grow up in a musical household. My Pops taught me to play bass when I was six years old, and he still plays in a band in the Detroit area to this day. He was a huge influence on me, of course, and he still is."
From a tight family unit growing up, to signing with Stones Throw for his debut album, Cohen has had great support as transformed into Mayer Hawthorne.
"Stones Throw are like a family, and I think that's part of the magic of it, that Dam-Funk and Peanut Butter Wolf and James Pants and I can go to the record store together and dig for records, and it has nothing to do with releasing our music or performing - it's about our shared love for music."
Ever the gentleman, Cohen has convincingly - and with considerable class - let me know that Mayer Hawthorne is as real as it gets. How do you do?
Five influential records from Mayer Hawthorne's pop's collection
Earth, Wind & Fire - Let's Groove (1981)
"That was a really huge record for me growing up - classic material."
The Police - Synchronicity (1983)
"I remember that was the first record that I actually bought with my own money. It was on cassette tape and, because it was my Dad's cassette, I'd played it so much I wore it out and it snapped. He made me buy him another one!"
The Beatles - Rubber Soul (1965) and Help! (1965)
"My Dad's favourite is definitely Rubber Soul so that was probably the first one that he put me onto, but I remember the Help! soundtrack too. I really loved that one as a kid. There was just something about those tunes that just really connected with me as a little shorty."
The Doobie Brothers - Minute by Minute (1978)
"That was another big one for me as a kid - essential listening."
Steely Dan - Aja (1977)
"Steely Dan is one of my favourite groups of all time. Man, I got a chance to see Donald Fagen play with Michael McDonald and Boz Scaggs out here, and that was one of the most epic moments of my life, seeing them all play together."