The Tegal Chicken saw The Damned play their first New Zealand show at The Gluepot in Auckland on Wednesday 2 April 1986.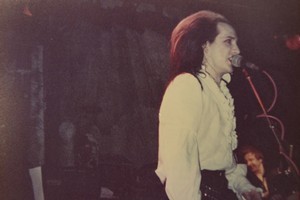 In 1986 at the tender age of 19 I went to see the "old men of punk" at The Gluepot - The Damned. I recall my disappointment at not seeing the great Brian James on guitar; he'd already left and been replaced by Roman Jugg. Captain Sensible had also moved on in 1986. But Rat Scabies brought a whole new meaning to "crashing drums" with his ever-pumping double-kick pedal which gave the perpetual illusion he was out for a hard run - sitting down. He had me transfixed all night. I'd heard him do a guest spot on bFM the night prior, and he was a riot. And Dave Vanian had the bleached strip in his jet-black hair, which had him looking like he was straight out of a Hammer Horror. So yes, they were The Damned alright.
Phantasmagoria was a recent release, which signalled a far poppier but more gothic band than their earlier classics like Damned Damned Damned and Machine Gun Etiquette - but they still managed to include Smash It Up and New Rose with new "hits" Grimly Fiendish and Barry Ryan's Eloise. While not wardrobed in the late '70s attire which much of the local punk scene were expecting them to turn out in, they looked like grimly fiendish dandies in their outfits.
For the encore, Rat took up guitar and The Damned broke into a rambunctious version of Pretty Vacant. It was a magic night.
They would return a year later and perform a mid-summer show at The Galaxy where they visited 'The Doors', but The Gluepot gig did it for me. Twenty-five years later, and I look back and think how young they were then. Not even 10 years after New Rose, they were probably still in their 20s and early 30s, and still near their rock prime. Let this be a lesson, kids: real rockers still have it in them, even when they get a bit older, and have a few tricks up their sleeve to amaze and delight the whippersnappers.
Who: The Damned
Where: The Gluepot, London
When: Wednesday 2 April 1986