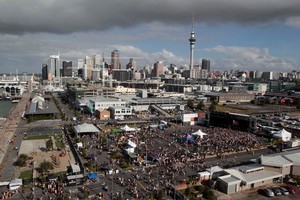 It was the biggest and best Laneway yet. And yesterday, on the Auckland waterfront, if you walked past the buskers, the Anniversary Day Regatta crowds and the nearby seafood festival, the indie music extravaganza was the last, loudest and hottest event on the left.
It has been a fraught time for music festivals this summer but Laneway, at Silo Park in the Wynyard Quarter, bucked the trend with a near sell-out crowd of 6500, pulling the biggest crowd in its three-year history and in its first time on the newly developed waterfront area.
It was stinking hot but the cool kids - and plenty of grown-up early adopters - came out to party.
And Silo Park - the third venue after Britomart in 2010 and Aotea Square last year - proved ideal. The grassy knoll of the small Park Lane stage, though crowded at times, had a backyard ambience while the main stages in the Beaumont St carpark offered a spacious patch of tarmac for the day's bigger names.
The diverse 22 acts across three stages included some of the world's top indie musicians.
Early in the day, it was walls of dreamy noise that dominated, the best of the bunch being New Yorkers Cults. Their retro-rock proved a major drawcard, but they needed to let rip more, with singer Madeline Tollin and guitarist Brian Oblivion looking a little nervy.
It took San Francisco quintet Girls to boot a bit of life into the day. They changed it up constantly, moving from trippy psychedelic summer-of-love heaviness (dude!), through to jaunty, hard-kicking pop-rock.
Another early act to inject a bit of chaotic fun into the mix was Christchurch trio The Transistors, whose brand of brazen and rowdy punk was witnessed by a head-nodding few on the Park Lane stage.
Opossom, made up of Bic Runga and former Mint Chicks Kody Nielson and Mike Logie, kicked off the day energetically and creatively with. Runga revelling in her drumming role and occasionally swopping with bandmate and boyfriend Nielson.
Runga wasn't the only mainstream local hero showing that Laneways was so cool, some had formed new bands to play it - late afternoon was the turn of Neil Finn's Pajama Club, featuring wife Sharon on bass and vocals and musical multi-tasker SJD.
Finn still displayed his old bonhomie and showmanship, while the band's set throbbed along neatly on tracks from the Club's 2011 debut album, as well as giving a cover of David Bowie's Moonage Daydream the full Ziggy.
Elsewhere, the tropical 80s live electronica of Washed Out lapsed into a moment of white-boy reggae, sounding too much like Sting doing Englishman in New York, but they pulled it off with indie cool.
In her first New Zealand appearance, charismatic Canadian Feist played a much more muscular set than her albums suggest, her vocals carrying beautifully during a set dominated by songs from her latest album Metals.
She actually rocked out so hard during her latest single How Come You Never Go There that she blew her mic and guitar. But her backing sextet kept calm and carried on as she treated the crowd to a cabaret-style lip synch. Despite being briefly muted, Feist's set was one of the day's most energetic and memorable.
Expansive dreamy 80s-inspired French artist M83 opened aptly with Intro. Cue mass swooning. Performing as a four piece band, M83's emphasis was as much on guitars and drums than his synthesizer-heavy albums. The lights and smoke machines helped created a hazy, celebratory mood to an upbeat soundtrack that had the crowd busting their best moves and which got a little wild when it came to hit anthem Midnight City.
Gloomy Brit post-punk rockers the Horrors were stoic and intense, though they needed to be far louder. Still, their long sprawling epic Sea within a Sea was one of the day's highlights.
And local guitar hero Shayne P. Carter finished up on the Park Lane stage with a blazing greatest hits and favourites set taking in everything from swirling Straitjacket Fits' anthem Dialling a Prayer to a mangled and scything Crystalator from his early Dimmer era.
Australian headliner Gotye started in contemplative mood with Eyes Wide Open but with stunning backdrop visuals he ramped up the set with Easy Way Out, and displayed his diverse influences with State of the Art, a deep, grooving electro-synth number. Many were really waiting for his hit single Somebody I Used To Know. Local star Kimbra wasn't there to sing the duet with him, but the singalong ballad of 2011 was still a magical moment.
It was a day not without its problems (beer queues, cellphone coverage) but Laneway has found its feet and the festival certainly proves there are better uses for the Auckland waterfront than parking spaces for Jap imports and gin palaces.