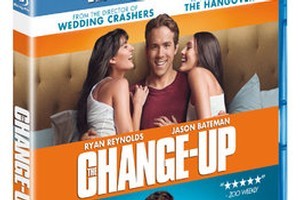 From Tom Hanks in Big to Jennifer Garner in 13 Going on 30, the old trading bodies gag has a long and checkered history in Hollywood.
But The Change-Up introduces a couple of new twists: This bod-swap tale involves two adult men, and the David Dobkin-directed comedy adds plenty of over-the-top gross out humour for kicks.
For the first two-thirds of the film it mostly works, as Jason Bateman's family man Dave swaps bodies with his pal Mitch (Ryan Reynolds) after a drunken night out, and the pair set about making the most of their strange new worlds.
The bad taste jokes might not be to everyone's tastes - at one point Mitch asks if one of Dave's kids is "a little bit downsey" - and the film's final act predictably descends into rom-com cliches.
But Olivia Wilde and Leslie Mann provide plenty of eye candy, and there are more than enough laughs here to please anyone who enjoyed Knocked Up or Bridesmaids.
Extras: There's an extended "ruder" version on the film's blu-ray release, as well as deleted scenes, a gag reel and commentaries.
Rating: 3/5
- Herald online