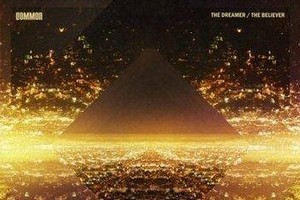 If anyone needed to get their swagger back, it was Common.
The Chicago-based rapper had cult cred to burn thanks to a 15-year career of incisive, politically minded old school rhymes that included mainstream hits like The Corner and Testify.
But all that evaporated with his 2008 album Universal Mind Control, an ill-advised attempt at a Black Eyed Peas-style pop crossover.
So it's pleasing to find Common hitting harder than ever on his ninth album.
"My name's synonymous with prominence, I'm to hip-hop what Obama is to politics," he spits on comeback single Sweet, a blustering and boastful track that sets the scene for a mostly masterful return to form.
He hooks up with his mate Nas on Ghetto Dreams and the pair create quite the racket over producer No ID's sparse piano and horn-laced beats on another album standout.
Elsewhere, with its atmospheric and dreamy Electric Light Orchestra-sampling beats, Blue Sky could be something from the last Kanye West album, and Common proves his versatility on the summery and soulful on Lovin' I Lost.
Best of all is Raw (How You Like It), thanks to its swirling, reggae-tinged beats and story-telling rhymes about a particularly nasty love triangle.
A couple of cheesy late album R&B tinges aside, The Dreamer/The Believer finds Common riding the form of his life.
Stars: 4/5
Verdict: Backpack rapper finds his mojo on hard-hitting comeback
Buy this album here.
-TimeOut