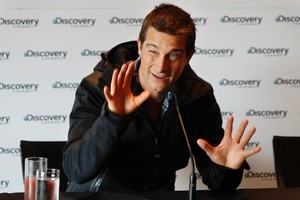 Just in case you were wondering, British adventurer and survival expert Bear Grylls has not been missing in action in New Zealand for the last year. Grylls was here in February, 2011, to shoot episodes for his show Man Vs. Wild and his madcap adventures in Aotearoa will finally reach our screens on March 7 on Discovery Channel.
As well as traversing the Southern Alps (during the filming of which the Christchurch earthquake hit), he also abseils down a 40m waterfall using a flax rope and dines out on possum, huhu grubs and a tree weta.
He told the Herald last year that the weta was among the worst things he's ever eaten - and no, he didn't scrape the possum off the road.
"I tell ya though, it would have been easier, because I had to work for that possum. It tastes a bit like rat, which is pretty overrated," he said.
-TimeOut