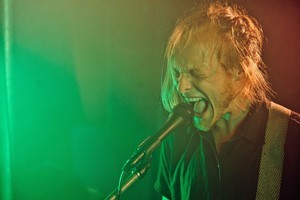 "That's us. Cheers."
Three years, one punishing EP and 45 shows later, the Idiot Prayer faithful gathered to bid a sad farewell, on the now hallowed ground of the 12 Below stage.
However, before the eulogies and thank-yous began to flow, promising newcomers Scattered Brains of the Lovely Union and Ipswich were both equally impressive.
Like their idols, the Brian Jonestown Massacre, the seven-piece Scattered Brains strong together the best elements of '60s psychedelia, folk and ramshackle idiosyncratic pop to form the simplest of song structures layered in beautiful melody. With Opposite Sex bassist Lucy Hunter shining on trumpet duties, keep your eyes peeled for a forthcoming Scattered Brains strong recording with Fishrider Records.
Playing their first Dunedin show, Christchurch trio Ipswich's driving rhythm section and swirling shoegaze guitar brought a joyous wall of noise to the small venue.
Heavily rooted in post-punk and a loud-quiet-loud dynamic, frontman Steven Marr's raw delivery saw searing new single Alien vs Sexual Predator fired off as a cathartic, brute-force statement of intent.
Despite Idiot Prayer's short lifespan, the last three years have seen the trio turn themselves into one of Dunedin's most compelling acts. Slowly evolving from embryonic HDU/Bailterspace style instrumentals to hypnotic math-minded rock, their last outing as an expansive exploration of the groups back catalogue, Tim Smith showing the breadth of his talents as a passionate, intelligent and satirical songwriter. The soul of Idiot Prayer's live performance, the charismatic frontman spat out his screeching, intense and often bizarre one-liners, tearing at his vocals chords through every breath, his musings staining the mind.
Backed by one of the country's best rhythm sections, the astonishingly heavy pair of drummer Sam Brookland and bassist David Ager give Smith's songs an earth-shattering precision. With Brookland's reputation as a powerhouse force already well established in Dunedin, he gloriously showed no restraint, destroying sticks, flirting with time signatures and pounding the audience in submission on live favourite Sausage Spectrum from their Falconer EP.
An exhausting, sentimental experience that may never be repeated. Rest in peace, Idiot Prayer.
Who: Idiot Prayer w/ Scattered Brains and Ipswich
Where: 12 Below - XIIB, Dunedin
When: Saturday 21 January