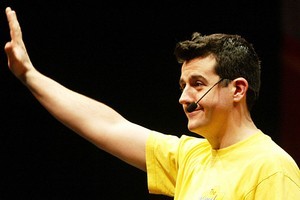 Controversy has erupted over the dumping of one of the Wiggles after claims emerged the yellow Wiggle was paid just four months salary to leave the band.
Yellow Wiggle Sam Moran last week departed the Australian children's music group to make room for founding member Greg Page to return.
Page left the group in 2006 after struggling with orthostatic intolerance - a condition that meant he got dizzy when standing or singing.
Moran, who had been an understudy with the band since 2001, replaced him - until last week when he was asked to leave. Some reports suggest he was given no warning.
Claims emerged that Moran was being cut out of the Wiggles' financial empire, with some reports suggesting he was given a payout of just A$60,000 - about four months' worth of his A$200,000 annual salary.
The Wiggles made A$28 million in 2011.
Adding more fuel to the fire was an interview on Channel Nine in which Moran was described as a Wiggles employee and "just doing a job".
But Blue Wiggle Anthony Field told the Sydney Morning Herald this wasn't the case.
"The thing that people don't know is that we included him in songs [that he didn't write] as a gesture of goodwill," Field said.
"We wrote hundreds of songs and he probably wrote three songs with us. It's something that we didn't have to do ...
"Financially he's in a much better position than if he had never met us."
Field said Moran would receive between A$60,000 to A$100,000 in songwriting royalties every year for the rest of his life.
But he also said the Wiggles were "in debt".
"People have got to look at this and go - hang on, there is a business side to this, he (Moran) was an employee, Greg is an employee, we are in debt, not to Greg, but to the bank.
"It's a sizeable debt. Sam's time came up and Greg was happy to go with what we're offering."
Moran hasn't spoken apart from a statement directed at his fans.
"I just wanted to send a message to all the children around the world who have sent me such wonderful messages on Facebook and Twitter and some sad messages too saying how upset they are that I won't be the yellow Wiggle any more. Fear not, The Wiggles will continue and you will still see all your other friends."
"I will miss seeing your smiling faces from the stage. Keep on Wigglin."
Page said he was "excited" to return to the Wiggles.
"I didn't get a chance to say farewell last time, so this is an opportunity I couldn't refuse," he said in a statement.
"I'm feeling great and looking forward to doing what I love."
- Herald online