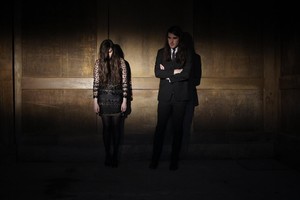 Indie pop duo Cults are the epitome of New Yorker-style coolness. Though both originally from the west coast, Madeleine Follin and Brian Oblivion met while both studying film in New York. While they were both music lovers, and had musical backgrounds, neither had previously set out to make music.
"Everyone in my family was making music, but I figured I was the one in the family who was the black sheep who wouldn't be doing anything cool, so I was kind of like 'ah well, I guess I'll just study film'," Follin explains.
However the couple were soon feeling encouraged by all the creative projects happening around them, and began writing and recording music to share with friends. They first garnered attention after posting three songs to their Bandcamp page in 2010 and quickly found a fan base with their 60s-inspired, swinging guitar pop, releasing their debut self-titled album in June last year.
Their band name isn't just an arbitrary label, it's the result of an ongoing interest in the notion of cults, and has been reflected in their music, with the video for early single Go Outside tying it directly to the story of the Jonestown Massacre.
"We'd just watched one documentary at college, and then it kind of spiralled, and we got obsessed, and we ended up watching endless hours of YouTube clips about cults, and that was around the time that we started making music."
Creating songs of a dual nature is a particular trademark, with Oblivion writing upbeat, lushly arranged sha la la music, while Follin often addresses eerie, melancholic issues in her lyrics.
"I think that's just the difference between me and Brian, I'm pretty dark and depressed," Follin jokes.
"No, I think it was just natural, when we were writing the record, we never really had a moment when we went 'okay, this is what our band is going to be, and this is our mission statement', we just let it go, whatever came out. We worked together to make something that we both would enjoy."
They seem to have the "working together as a couple" scenario pretty well sorted too, though she admits it has its moments.
"I think it makes it easier, because we're not self-conscious about our ideas. That is a hard question though. I don't think I'd be able to spend as much time as I do with Brian, with anybody else. We can say mean things to each other and let them slide later."
They're looking forward to the Laneway tour, happy to be playing with friends, and hoping to impress with their live show, which will include a five-piece band, and possibly a new visual element.
"We're building, actually right now, a sort of projection light show, we're working on that, so hopefully that might be done and we can bring it with us on tour."
LOWDOWN
What: Romantic 60s pop with a dark twist
Where and when: Cherry Lane Stage, 2pm
Listen to: Cults (2011)
-TimeOut