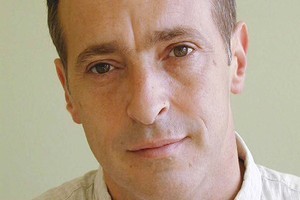 It feels like a quaint concept: a writer reading his material to a paying crowd.
Considering you can access most printed material on the net, it's testament to David Sedaris' popularity that the Town Hall Concert Chamber was nearly full on Wednesday night.
Then again, the New York humourist's work is so personal, it's only natural to want to check him out in the flesh.

With no new book to promote, fans of his columns in the New Yorker, or his bestselling books such as Me Talk Pretty Some Day, Dress Your Family in Corduroy and Denim, When You Are Engulfed in Flames or 2010's Squirrel Seeks Chipmunk, might have wondered what led to an Australasian tour here in the first place.
But there was plenty of new material to keep the crowd enthralled for the 90 minutes he owned the stage. A natural speaker despite his apparent timidity and a tendency to
wear his bathing suit inside out, the first of his two Auckland shows was hysterical.
Even a two-month-old piece from the New Yorker about his use of the Pimsleur language courses reached new levels of hilarity with the addition of the voice of God (the guy who reads the audio).
The audience also got insight into the world that surrounds his writing, with tales of the rigorous New Yorker fact-checkers ringing unannounced to ask his acquaintances odd questions, and inappropriate requests of Sedaris at book signings.

Watching the writer take the podium in a blue-striped shirt and pink tie you might have thought he was a businessman giving a lecture. His kindly demeanour and gentle New York inflections were such that if you didn't understand English, you might have thought he was telling a very funny children's story. But this was definitely a grown-ups' show.
Despite a few under-agers in the crowd, Sedaris didn't blink when delivering tales of German porn, toilet etiquette (you'll never enter a public loo again without contemplating splashing noises), and cultural ironies observed from years of travel.
Sedaris' simple language storytelling is the kind of whimsy many believe they can write but can't: painfully honest, insightful and touching no matter how absurd.

Those unfamiliar with his droll style may have struggled to connect with his opening piece, written in the voice of a religious fanatic. But he soon won over the crowd with his tales of lacklustre healthcare in Paris, and a nonchalant French doctor who barely acknowledged his troubles.
"For my $40," said Sedaris, "I want to leave the doctor's office in tears."

He also impressed with essay Atta Boy which skewered young, over-parenting types compared with the fast and loose style of his dad, and read a hilarious series of entries from his diary (he has kept one for 35 years).

Perhaps what makes Sedaris so enthralling is that his persona completely matches the man he paints himself in his stories - the too-polite, middle-aged homosexual from New York who speaks frequently of his life with partner Hugh, the guys with a love for forceful, rude people (such as his old New York neighbour, Helen), a trait he admires because he says he lacks it himself.
Softly spoken he may be but Sedaris' comedy is a tour de force.
What: An Evening with David Sedaris
Where: Auckland Town Hall Concert Chamber
When: Last night and tonight at 7.30pm
- NZ Herald