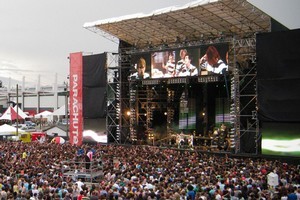 The Parachute Festival is offering family passes from as low as $1 to boost ticket sales for next weekend's event.
The 21-year-old Christian music festival is letting families pay what they can afford after sluggish early-bird ticket sales.
The usual price for a pass for two adults and three children is $460.
Parachute runs from January 27 to 30 at Mystery Creek, near Hamilton.
It is the second long-standing New Zealand music festival to acknowledge that financial pressures are affecting ticket sales.
On Wednesday, Big Day Out organisers said tomorrow's event would be the last in Auckland because it was no longer financially viable to hold the show in New Zealand.
Parachute Music chief executive and founder Mark de Jong said the tough economy, the Christchurch earthquake and the saturated summer music festival market were making it challenging to operate.
"Ticket sales have been lower than expected. They were low enough that they caught our attention to look at this whole thing, and low enough for us to say, 'What can we do to help people come to this?'
"But it's certainly not going to be our last year or anything - it's just a tougher economic environment."
Parachute found that early sales for families were down the most and wanted to help one of its two main target audiences, the other being 16- to 21-year-olds, Mr de Jong said.
"Families have always been a big part of our focus as a festival and over the 20-plus years we've been going, the family component has got bigger and bigger and bigger - I guess partly as our audience has grown older."
He hoped people would accept the offer in the spirit it was being given and not feel hard-done-by if they were buying a single adult ticket or had already bought a family pass.
It was possible some festival goers would abuse the $1 ticket offer, "but we are choosing to believe most people are reasonable and will be reasonable about it and pay what they can reasonably afford".
Mr de Jong said families would have to prove they were related and would have to arrive together.
The deal came into effect yesterday.
Mr de Jong said families who had already bought tickets could probably afford the full price, but asked them to get in touch if they were struggling.
The number of summer festivals had ballooned to 22 in recent years, but Parachute's point of difference remained being an alcohol- and drug-free family-friendly event.
This year's line-up includes Avalanche City and Casting Crowns, Relient K and The Almost.
Last year's festival attracted 24,000 people.
Meanwhile, Big Day Out ticket sales were slow yesterday.
Sellers said they had expected a rise in sales but were left disappointed,
By 6pm, Ticketmaster had sold only 20 tickets.
Music shop Real Groovy said it had noticed an increase but sales did not compare to the same time last year.
Ticketmaster seller Mike Purandare did not have high hopes for today's sales.
"I expect we'll sell maybe 10 or maybe 20 - we definitely expected to sell more."
Real Groovy manager Sarah Williamson said that by 10am yesterday, there was a steady queue of about 10 people buying tickets, but it slowed to about six people by 4pm.
"It was nothing like this time last year - last year was easily 50 plus an hour," she said.
"Before Christmas last year, we would have sold thousands, and before Christmas this year we would have only sold a couple of hundred.
"It's the difference between being constantly busy and selling one ticket every minute and selling one every hour."
Ms Williamson said customers told her staff they were sad tomorrow's Big Day Out would be the last and that was why they were buying tickets.
Big Day Out organisers did not return the Herald's calls and emails about ticket sales.
FAMILY AFFAIR
* Pay a minimum of $1, increasing in $50 amounts depending on what you can afford.
* A family includes two adults and all children in the immediate family. ID required, no age restrictions
* Tickets can bought at gate or online at www.parachutemusic.com