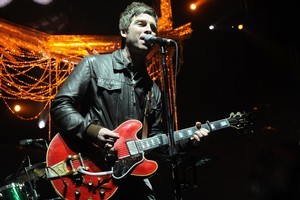 Noel Gallagher is in the process of belittling me - and anyone else with an office job for that matter. His mini-tirade is in response to a question about whether he ever thought about packing it in when he quit Oasis in August 2009 following another bout of fisticuffs with his brother Liam.
It seemed a fair enough question considering he'd obviously had a gutsful of his younger sibling and what, after 18 years and seven albums, his band Oasis had become. Still, it set him off.
"I get asked this question a bit, and it usually comes from people who have jobs. This isn't a job. I encounter so many taxi drivers, people who work in bars, journalists, and people who work in banks, and it's like, 'Well, that's how you think because you have a job. And you're probably in a job that you f***** loathe and you don't get enough satisfaction from'. But I love what I do."
Gee, thanks Noel. Then again, he can also be funny, thoughtful, likeable even.
And really, his temperamental nature is exactly what you expect from the famously outspoken, arrogant, and, some might say, more intelligent Gallagher brother. He's renowned for his scathing one-liners, pithy hilarity and scorn for everyone from his little brother to Jay-Z (In 2008 Gallagher proclaimed hip-hop had no place at Glastonbury when the rapper was announced to headline the music festival.)
He refuses to talk about lippy Liam these days. An email confirming TimeOut's interview with Gallagher said: "Noel is no longer taking questions about Liam. He's completely exhausted the subject."
Fair enough too, yet he's open and honest about the Oasis split.
"Two minutes after I walked out of that dressing room, that was it, done. I'm that kind of person. I'm a forward thinker," he says bluntly.
And he warms up - to an almost cheery level - when he talks about last year's Noel Gallagher's High Flying Birds' self-titled debut album, which is a far more impressive (and beautiful) record than his brother's effort with his band Beady Eye.
"I understand people will compare it to the last two Oasis records - and we were a stadium rock band and that's what I was writing and that's what I liked and that's where I was then. But this is where I am now. Not that the High Flying Birds album is that radical a departure from what Oasis did, it's just that I'm singing all the songs and it's all my playing and all my production, whereas Oasis was a combination of five people.
"And you know what, I don't stare out the window thinking that I miss playing in stadiums. That's not where I am now, and I accept that."
Gallagher plays the Big Day Out's Green Stage on the top field tomorrow night, on his first visit here since Oasis toured in 1998. And he and his four-piece band will play Oasis songs.
"Do you think I'd be let out of a venue without playing Don't Look Back in Anger?" he jokes.
He is proud of his old band's songs, especially early ones like Supersonic, Rock 'n'Roll Star, and Live Forever, the first song he wrote that he felt chuffed about. "I finished it and thought, 'F***** hell that's amazing'."
A number of the songs from the High Flying Birds album were written while he was still in Oasis, like the grand (I Wanna Live in a Dream in My) Record Machine ("when we broke up I decided to re-record it - it's an old song though and it just goes to show great music is timeless") and smouldering and fitful final track Stop the Clocks (complete with choir and brass).
"So some of them were written with Oasis in mind, but the next time I sit down to write an album it will be more of a representation of what I am now. This is more like a bridge between the two."
The songs he wrote afresh include trancey, mantra-like rocker AKA ... What a Life! and the catchy whimsy of first single The Death of You and Me, which is an example of how he's stretched his sonic palette with bombastic, carny-style brass break-outs.
"To be quite honest, I only made two conscious decisions for this album. One was, on the eve of releasing the first single, it was going to be If I Had a Gun but the night before I had a change of heart and went with The Death of You and Me because I thought people would be surprised by that.
"And the other conscious decision was to have the second single as If I Had a Gun. Other than that it was business as usual. If you write a song and it needs trumpets, you go and get trumpets, you know what I mean?"
The High Flying Birds have another album coming out later this year (or early next), recorded with Amorphous Androgynous, the psychedelic alias of British electronic dance pioneers Future Sound of London.
Though Gallagher doesn't laugh a lot, and despite his aloofness, you can tell he's enjoying making music and playing live more than ever.
"I like it. And I know that I'm in control of it all and so I know I'm going to turn up and do the gig.
"In Oasis there was always an element of uncertainty about whether the gig was going to happen, or what the atmosphere was going to be like.
"But I'm in control of this, and I have to say, I'm enjoying it more than I thought I would because I normally find it quite difficult to be up there on stage in the middle. But I made a great record and you don't really need to try when you've made a great record that everybody likes."
LOWDOWN
What: The brains behind Oasis flies solo
Where and when: Converse Green Stage, 10.30pm
Listen to: Noel Gallagher's High Flying Birds - Noel Gallagher's High Flying Birds (2011); Oasis - Definitely Maybe (1994), (What's the Story) Morning Glory? (1995), Dig Out Your Soul (2008)
-TimeOut