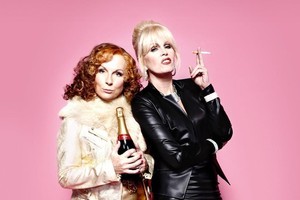 Tonight's line-up includes two belated seasonal offerings from two British telly institutions.
Two 20th-anniversary Absolutely Fabulous episodes screened in Britain on Christmas Day and New Year's Day and Dr Who returned for a one-off yuletide sci-fi panto. And next month we're getting two Downton Abbey Christmas special episodes.
Ab Fab returns, even though Jennifer Saunders has declared over the years that there will be no more Eddy (Edina Monsoon). But since the original early-90s series, then its 2001 to 2003 revival, there have been regular one-off specials and there are plans later this year for a London Olympics-themed episode.
The latest episodes, tonight's Identity and next week's Job, have Eddy and long-suffering daughter Saffy (Julia Sawalha) still at loggerheads. Saffy is just out of jail for innocently supplying asylum-seekers with passports and has brought her cellmate to stay, all of which has connections with Patsy (Joanna Lumley) facing a crippling drug debt and the truth about her age.
Both Mother (June Whitfield) and Bubble (Jane Horrocks) are back, too.
Across on Prime, The Doctor, the Widow and the Wardrobe is the seventh Christmas special since the franchise's revival in 2005. The episode is partly inspired by The Chronicles of Narnia. It's largely set in England during World War II where the Doctor (Matt Smith) and an evacuated family find themselves going through a portal to a snow-covered enchanted forest.
What follows is a story involving a crashed Lancaster bomber piloted by the father of the family, some frightening wooden creatures, and Billy Bailey in a spacesuit as a forest ranger from another planet. Unfortunately, there isn't time nor opportunity for Bailey, a Dr Who fan, to offer his own long-standing reinterpretation of the show's theme tune - he does it as a Jacques Brel-style jazz ballad renamed Dr Qui.
The Ab Fab and Dr Who specials scored some 9 million viewers each when they screened in Britain last month.
DR WHO CHRISTMAS SPECIAL
When: Thursday, 8.30pm
Where: Prime
What: Dr Who in Narnia
ABSOLUTELY FABULOUS
When: Thursday, 9.30pm
Where: TV One
What: Pour us another sweetie darling
-TimeOut