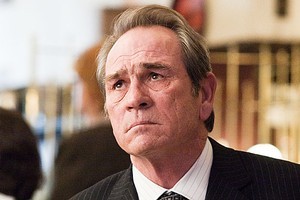 Famously gruff American actor Tommy Lee Jones is returning to New Zealand to play US General Douglas MacArthur in Emperor, a movie set in the aftermath of the Japanese surrender in World War II.
Earlier in his career Jones came here to make the 1983 adventure movie Savage Island - also known as Nate and Hayes - in which he played legendary South Seas pirate Bully Hayes. The movie was a box office flop.
Jones is a three-time Oscar nominee and one-time winner for best supporting actor in 1994's The Fugitive and he was the lead in in 2007's Best Picture Winner No Country for Old Men.
But he's probably best known as Agent K from the Men in Black movies, the third of which is due for release this year and which also features Flight of the Conchords star Jemaine Clement.
Emperor also stars Matthew Fox from television's Lost as an officer on MacArthur's staff who is charged with deciding on whether Emperor Hirohito should be charged with war crimes.
Cameras are due to start rolling this month in various New Zealand locations with some shooting also taking place in Japan.
It's directed by English film-maker Peter Webber whose previous films include Girl with the Pearl Earring and Silence of the Lambs prequel Hannibal Rising.
- TimeOut