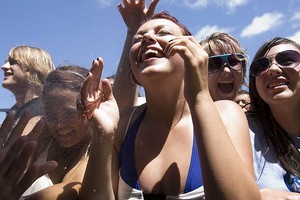 Officials for the Big Day Out say Kiwi music fans are "lucky" the music festival has lasted in New Zealand for so long.
The Big Day Out will be held in Auckland for the last time on Friday, with Australian promoter Ken West and New Zealand promoter Campbell Smith last night deciding to pull the plug after 18 years.
The festival has suffered low ticket sales this year after announcing a smaller line-up and pulling Kanye West from the bill, and a tearful Smith today said costs were too high to keep bringing the festival here without massive increases to ticket prices.
"It's very, very expensive to bring 35 international acts here for one show," Smith told bFM.
"Even in the years we were selling out we were barely breaking even. The reason it keeps coming back is that Ken loves New Zealand. We owe him a debt for bringing the damn thing here for so long.
"It's a very small market, it's a very small country. We've been lucky, to be honest."
Smith denied rumours the decision was a marketing ploy to boost sluggish ticket sales ahead of Friday's event.
"It's complete crap, it's bullshit. We are genuinely sad about having to do this (and) we wanted to let people know. It's a great show, it's always been a great show, you don't get this kind of intensity of international acts alongside local artists at this type of event.
Smith said previous years had all "pretty much sold out". Ticket sales were also slow in Australia, he said.
"People are saying that they aren't appreciating this line-up - that strikes me as strange. I think it's strong. For whatever reason we're not selling tickets. We haven't got a roll on."
He hoped fans would come along on Friday to "party" one last time.
"It is a sad day. I feel like we should be celebrating that it's been such an amazing and iconic event ... Everyone knows it's the last one and everyone will be feeling it."
The Big Day Out will be held on Friday at Mt Smart Stadium with Soundgarden, Nero, Noel Gallagher's High Flying Birds, Das Racist, Foster the People and Royksopp.
* nzherald.co.nz will have full coverage on the day, including reviews, a live blog and updated photo galleries.
- Herald online