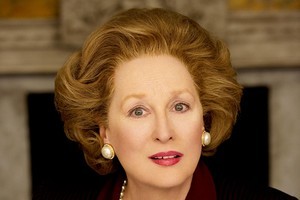 New Zealand men quite fancy the idea of snuggling up next to Charlize Theron - which may come as no surprise.
But men would rather share a night with Meryl Streep and Jodie Foster than the blonde and whippet-thin Kirsten Wiig, it emerged when they ranked the five Golden Globe best actress nominees.
Yesterday, the results were released from a survey which asked New Zealand men and women which actors and actresses up for a Golden Globe this weekend would they most like to spend a night in a hotel with.
Not-so-shockingly, women voted the ever charming and handsome George Clooney as their first pick, with Leonardo DiCaprio, Brad Pitt, Ryan Gosling and Owen Wilson rounding out the top five respectively.
However, Kiwi men made some more out-of-the blue picks with Streep from The Iron Lady and Foster, from Carnage, beating Bridesmaids' Wiig.
One thousand men and women aged over 18 completed Hotels.com's online survey, which was analysed to be representative of the total New Zealand population on the basis of gender, location and age.
The respondents were asked to rank the nominees for best actress and best actor in this Sunday's Golden Globe awards.
Widely regarded as one of the sexiest men alive, Clooney, a two-time Golden Globe-winning actor, was streets ahead of his rival heartthrobs.
Almost a third (31 per cent) of Kiwi women said that, if given the option, they would like to share a hotel room with Clooney, who has been nominated for his role in the comedy-drama, The Descendants.
Clooney's good friends Pitt and DiCaprio each received 18 per cent of the votes while Gosling, the latest swoon of choice for women, won 15 per cent.
Meanwhile, the stunning Theron was the overwhelming favourite with Kiwi males. A third of men (32 per cent) picked the South African-born glamour queen, nominated for her role in Young Adult, to share a night with in a hotel room.
Kate Winslet received 26 per cent, following her nomination for Carnage, Roman Polanski's latest film.
And rounding out the men's top three was Streep, who boasts the most Golden Globe nominations of all time, with 15 per cent of the votes.
GOLDEN FIVE
Men
1.Charlize Theron
2. Kate Winslet
3. Meryl Streep
4. Jodie Foster
5. Kirsten Wiig
Women
1. George Clooney
2. Leonardo DiCaprio
3. Brad Pitt
4. Ryan Gosling
5. Owen Wilson