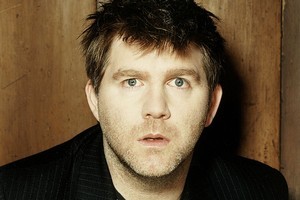 Here's our latest batch of the best links from the web, including a trailer for the new LCD Soundsystem documentary, incredible bookshop stop-motion animation, plenty of new movie trailers, awards for the best and worst CD artwork of 2012, and dubstep vacuuming.
Grab your Dyson and get those arms pumping - it's the new craze sweeping the nation.
1. I'm not a huge fan of LCD Soundsystem but I do like me a good music documentary. Here's the trailer for a movie called Shut Up and Play the Hits that's based on James Murphy's decision to end the band at the peak of their powers, including footage from a massive final show at Madison Square Garden. If you like balloons, you'll love this. (EW)
2. The amount of work that went into stop-motion bookshop animation delight The Joy of Books is mind-blowing.
After becoming a YouTube hit, the pressure's on for a quickfire sequel now though. (YouTube)
3. Thinking about going to Coachella this year? Wondering if there are enough bands to woo you? Grantland has broken down the music festival's poster art line by line to produce a pinpoint examination of where the world's best music festival is at. At the Drive-In are playing, so I'm there regardless. (Grantland)

4. She's not playing at the Big Day Out this year, but Peaches is still determined to sex things up. Here's her cover version of Michael Sembello's Maniac, with a video that's borderline NSFW. Depends on how groovy your boss is really. (PMA)
5. Here are four new movie trailers courtesy of Flicks.co.nz: Horror film Silent House featuring a relatively unknown sibling of the Olsen twins; Full on action thriller Haywire, with plenty of Jason Bourne-style action scenes; Thin Ice, a Fargo-style slapstick comedy starring Greg Kinnear; and ATM, which is kind of like Phone Booth on P. (Flicks.co.nz)
6. Music website Pretty Much Amazing voted Nerve Junior's As Bright As Your Night Light their favourite album of 2011, and one watch of the band's new video for Swimmer's Ear will probably have you nodding your head in agreement, and grinning from ear to ear. Gold. (PMA)
7. Cancel your gym membership and warm up those arms for some dubstep vacuuming. It's the new crunk. (Break.com)
8. If you've seen the S**t Girls Say video series, you'll be familiar with the format for S**t Nobody Says. I miss faxing too. Keep your eyes peeled for future editions cos this could run and run. (YouTube)
9. Anyone who's seen Anchorman 76 times like me will appreciate a good gag from the endlessly quotable Will Ferrell film. This newsreader loves his lamps. (Facebook)
10. Apparently the new album from The Big Pink isn't great. It's probably because Future This is already in line for the title of Worst Album Art Of 2012. Fortunately, Santigold has already provided the best - check it out here. (Pitchfork)
- Herald online