The two young stars of Martin Scorsese's 3D family film, Hugo, talk about the experience to Michele Manelis.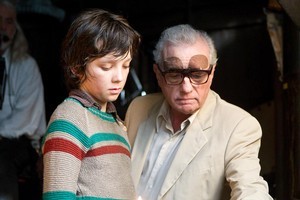 The two kids who star in Martin Scorsese's new movie haven't seen too many of his old films.
After all, the master of American cinema didn't make his name with films below the PG line, though he has directed kids to memorable performances, most notably Jodie Foster in 1976's Taxi Driver when she was 12 years old.
But now with Hugo, Scorsese has not only delivered a movie for the whole family (from him a first) in 3D (another), he has two 14-year-olds as his leads.
Filmwise, neither American Chloe Moretz or Brit Asa Butterfield are exactly babes in the wood, or strangers to grown-up material.
Among many other roles, Moretz starred as a wannabe superhero sidekick in the extremely violent Kick-Ass while Butterfield was a lead in the concentration camp drama The Boy in the Striped Pyjamas.
Butterfield plays the title role in this movie based on the 2007 Brian Selznick book The Invention of Hugo Cabret.
It is set in the Paris of the 1930s and inspired by Georges Melies, a turn-of-the-century French pioneer film-maker who had a penchant for wind-up mechanical figures.
Here Melies (played by Ben Kingsley) is depicted as a toy vendor, who has long given up on making films, and Moretz plays his god-daughter Isabelle.
She befriends the orphaned Hugo as the boy continues on his mission - to fix the automaton (think clockwork robot) his late father left him, while hiding out in the nooks and crannies of a Paris railway station.
Understandably, both Moretz and Butterfield were nervous come audition time.
Moretz: "It's kind of terrifying, you think, oh I have to go and perform in front of Martin Scorsese in order to hopefully make a movie with him and it's so terrifying. But once you get in there, he makes it feel like you are in your living room performing for him, it's as if he's your dad just sitting there in the corner, and you are just speaking with him."
Before they started filming the two actors both dived into the acclaimed Selznick book and the Melies movie archive.
Butterfield: "Marty gave us a lot of homework, as he calls it. So we all watched a lot of Georges' work, as well as other old film-makers."
The film was mostly shot in Britain at Shepperton Studios where the huge railway station set was constructed, which impressed Butterfield.
"The train station set was the most amazing set I've been on.
"Rather than it just being like one big studio, they actually opened the gates between two of them. So it was two studios long, and working like that is something completely different, 'cause rather than have to imagine things ... you can actually see where you've been. It was amazingly helpful working in one massive set, rather than lots of little ones."
Moretz: "We would actually go up to the bookcases and you could pull each book and they were real books that were actual vintage 1930s French books. So it was really special to be able to walk around as the characters and you wouldn't find anything that would take you out of who you are. All you had to do is react. It made it so easy for us."
Though every other major role in the film is played by a Brit - as well as Kingsley, there's Jude Law, Ray Winstone, Sacha Baron Cohen and Emily Mortimer - Moretz had to adopt an English accent to play a Parisian. But she didn't need much coaching.
"I actually fooled Marty into thinking I was British. I did all the auditions with a British accent and it wasn't until the end that I spoke with my own accent."
She smiles. "He was pretty surprised."
As for the genuinely English, Butterfield, now five features into a screen career which started at age 9 and having worked with one of the great directors at age 14 ... has his career peaked too early?
'I don't know if you can top it.
"The only way to top it would be to be in another Martin Scorsese movie."
-TimeOut