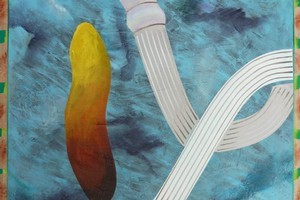 The Golden Axe duo of Daif King and Chris Cudby has once again combined to form an electro-Voltron, this time to record their audio adventure Liquid Bacon.
Their fourth album picks up almost seamlessly where the amalgamated twosome left off with their 2010 release Fantasy Footwork, dispensing video game soundtracks for real world situations.
But Bacon progresses from the hack'n'slash escapades - once beyond fuzzy fist-pumping opener Space Fire - to reach slightly more pastoral levels than its predecessors.
Comical and cosmical, the soundscapes that string this album together are immensely charming. The pair take simple themes, wrap them in layers of synthesizer and coat them with an '80s sheen.
The biggest departure from this trademark sound is the closing epic Peaceful Planet, a creeping composition depicting an eight-bit topography. It cleverly closes the circle back to early track Moon of the Peaceful Planet, bringing the album into full orbit.
Meat-lovers around the first world surely agree, bacon rules (hell, us vege-folk even emulate it) and Golden Axe's latest offering is the keyboard-born version of a side of swine, audible bacon.
When such popularity is reached you can stick a floating poop-pillar on your record cover and the audience will still lap it up.
GOLDEN AXE
Liquid Bacon
(AMDISCS)
8/10