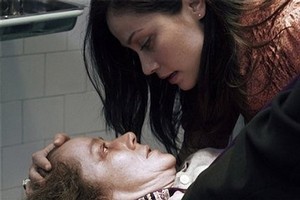 An explicit horror film labelled "stupid" and "banal" by reviewers has become a hit in America - and it's on its way to New Zealand.
The Devil Inside - a found footage mockumentary film shot in the style of Paranormal Activity and The Blair Witch Project - raked in US$34.5 million on its opening weekend in America.
That tops big budget movies like Mission: Impossible - Ghost Protocol (US$20.5m), Sherlock Holmes: A Game of Shadows ($14.1m) and The Girl with the Dragon Tattoo ($11.3m).
The Devil Inside is a low-budget tale about exorcists trying to free a woman possessed by evil spirits. The cast consists of mostly unknowns, and is due for release in New Zealand on February 2.
But reviewers have slammed the film, and it has just a seven percent approval rating on review aggregate site Rotten Tomatoes.
"'The Vatican doesn't endorse this film or its completion'," are the first words to appear on the blank screen that begins this film.
Having sat through it, I don't endorse it, either," said Brett Michel from the Boston Herald.
"People of the world: If you find some footage, leave it be. You will likely be doing the rest of us a huge favour," said Mark Olsen from the Los Angeles Times.
Even the fans who came out to see it gave it mixed to bad reviews.
Paramount reported that 16 percent of the audience gave it an A grade, while 19 percent gave it an F. Two-thirds of the audience gave the movie a grade of C or lower.
With a sales campaign that bypassed traditional newspaper and TV advertising in favor of online teasers and cryptic marketing, Paramount managed to intrigue young adults who have not been all that interested in the rush of family films and Academy Awards contenders that crowded into theaters over the holidays.
Just a day before The Devil Inside opened, industry analysts had expected Ghost Protocol to remain No. 1 in America.
The most optimistic forecasters figured The Devil Inside might manage $15 million, less than half the business it actually did.
"This one caught everyone looking, but the devil got his due," Hollywood.com analyst Paul Dergarabedian said.
"It's just very difficult to track the horror fan base, no question about it."
Check out the trailer for The Devil Inside:
- Herald Online with AP