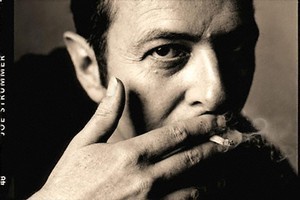 Never mind a lit candle, campfires still blaze in memory of Joe Strummer almost a decade after he died.
The legacy of The Clash figurehead is most obvious at a single-storey building by the Westway, the thundering, concrete thoroughfare in west London that he sang about in London's Burning.
This is HQ for the "Strummer-ville" charity, which has released a 2012 calendar to mark the 10th anniversary of Strummer's death on December 22.
The scene recalls an era before officials took over the world and it's wholly appropriate for a musician who had no truck with petty rules. Inside, young musicians such as folk singer Beans on Toast (Jay McAllister) are tapping away at laptops.
Strummer crafted original hits with lyrics intended to inspire, and when he achieved fame he famously remained approachable to anyone he met. Peter Hooton, who became the singer for The Farm, remembers when, as a teenager, he blagged his way backstage at a Clash gig in Paris and was eating a banana from the band's rider when Strummer walked in and met Hooton's apology with the words: "Hey, we're The Clash, man - you do what you like!"
Don Letts, a long-time compadre of The Clash who chronicled the band's journey in the film Westway to the World, says: "In a cultural climate that feels like punk never happened, the likes of Strummer are truly missed. Who speaks for you now?"
Strummerville's director, Trish Whelan, is trying to maintain an ethos where young people feel comfortable expressing themselves through music.
The charity's website gives a platform to aspiring artists, who can offer free downloads and links to their bands' websites. "It gives them a platform to communicate with a community of people who actually care," she says.
The scheme has grown to 150,000 downloads a month, with success stories such as Mumford & Sons, who went on to conquer the United States. In recognition of Strummerville's contribution, they headlined the charity's Glastonbury concert, which takes place around a campfire close to the Joe Strummer memory stone at his favourite festival site.
One of the bands that Strummerville has championed - Bastille - reached No1 in a chart compiled by the New York-based global music site, Hype Machine. But Strummerville is not set up to create pop stars - that wasn't what Strummer was about. "We have over 400 bands we've been helping," says Whelan. "We're not a label, so there's no ulterior motive. It's not a training ground for pop stars."
Another Strummerville graduate is Anna Calvi, who was nominated for 2011's Mercury Music Prize. Contributions have been made by Big Audio Dynamite (whose founder, Clash guitarist Mick Jones, is a valued supporter) and the T in the Park and V festivals. Artist Damien Hirst is a Strummerville patron and has donated works for fundraising.
Strummer's widow, Lucinda, is "thrilled" by the interest in the charity. "I see a similar energy to Joe's in lots of the bands we've helped over the years, who have something important to say in these troubled times," she says.
- Independent