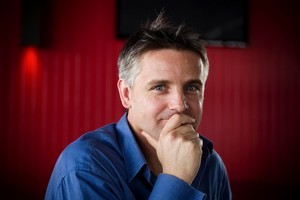 Actor Shane Cortese. Photo / Natalie Slade
SHANE CORTESE
Actor
What is your favourite book?
One I read a lot when I was a kid was The Gauntlet.
Why?
I really like the adventure of it - every chapter was a different adventure. One was about fencing and another was about jousting and another was about the Knights of the Realm. When I was about 12, I read it but it was just a really good summer adventure book for kids.
How many times have you read it?
I think I read it about three times.
What is your favourite movie?
I have two. Glaringly cheesy and obvious and without any whiff of embarrassment is Top Gun - one of my favourites of all time. And the other would be An Officer and a Gentleman.
Why?
Top Gun was just the coolest thing out at the time, it opened as he was riding his Harley down next to the runway as a jet was taking off - it was phenomenal, and the soundtrack, and it was just so cool that it made me buy my first pair of aviator sunglasses. And An Officer and a Gentleman was just a smooth movie ... it's one of those cool Richard Gere films where he gets the girl at the end with his white uniform and all the chicks want him.
How many times have you watched it?
Top Gun, I've seen quite a few times and know all the lines and An Officer and a Gentleman, not so much, but still a lot.