On the eve of their second visit to New Zealand, Fleet Foxes' multi-instrumentalist Casey Wescott tells Scott Kara how they've worked hard on changing direction.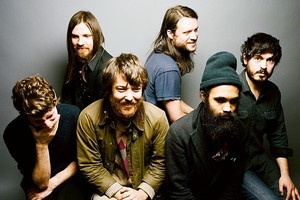 If Robin Pecknold is the leader and chief songwriter in Fleet Foxes, then Casey Wescott is the mad arranger and unashamed music geek of the band.
On the Seattle folk rock outfit's stunning debut from 2008 he played mainly piano and organ. On last year's follow-up, Helplessness Blues, he got to play around with all sorts of newfangled sounds as he went about adorning Pecknold's songs.
He uses everything from the more traditional Moog and Mellotron to the exotic sounds of Tibetan singing bowls and a music box.
"But I don't play any instrument proficiently," he says with his nervous and fidgety laugh. "But what I [did recognise] on the [latest] record is that the new songs needed more of an orchestration approach. A lot of the songs stand on their own with acoustic guitar and vocals and I wanted to be a sympathetic accompaniment to that and make sure what I was doing was in perspective to that other stuff.
"For instance Robin's voice or guitar will sound really big and so I complemented that with a music box or a zither. You just have to be really careful with orchestration, because sometimes you can make things sound smaller the more you add - which is a kind of an odd phenomenon. But at the same time I was just basically spending a lot of time brainstorming certain musical properties and coming up with ideas that weren't obvious to Robin or the rest
of the guys."
Just in case you may not have noticed, Westcott rambles. Not like a crazy man, but in a more eccentric and passionate way. Or, as he likes to put it, he "riffs" on things.
This is him riffing on American songwriter and arranger Van Dyke Parks, who recently played with the band and is a big influence on Fleet Foxes.
"Deeply, deeply influential" in fact, says Wescott. "I listen to his music on a daily basis. I really do. And that's what I've listened to for the past three or four years. Daily. And as a piano player he is a really interesting and special person in the lexicon of pianists and composers because he has a truly singular style. You've got Randy Newman, then the Elton, Billy Joel kind of thing, and then you've got Van Dyke Parks who comes at it from a truly singular perspective. Particularly Donovan's Colours [a 1968 single] is one of my favourite moments in piano music. His level of proficiency ... the things that he is doing, no one is doing that because nobody can. A lot of it has to do with his amazing sense of imagination, because there is something so thrilling about his music but also the rigours that you can tell he puts into it. Wow."
You have to love Wescott's passion - and he's just as excited about returning to New Zealand this month. The Fleet Foxes play the Town Hall on January 14 almost three years to the day they first played here at the Bruce Mason Centre. Back then, following the success of their debut album, they were the hottest band on the planet and it took its toll on them. When TimeOut spoke to Pecknold in April last year he half joked that they would have been happy to do a tour, "maybe record another album" and then go off to join the peace corps.
Wescott also felt the pressure. "We were exhausted, and at that point we were just like, 'oh gosh'. It was time to change direction in terms of what we were spending our days thinking about and doing. And the inverse of that, of what we were not doing," he chuckles.
"It was time to be a balanced individual, not that we weren't balanced individuals, but it takes it out of you. And the fact that when you make a record there are so many additional moving parts, like release stuff, playing shows - and all of that stuff can feel overwhelming.
"But actually, now, I think we are feeling extremely comfortable in our skin and being creative again."
Pecknold formed Fleet Foxes in the mid-2000s with his high school friend, guitarist and mandolin player Skyler Skjelset.
Over the course of a few years Wescott, Josh Tillman (drums), Christian Wargo (bass), and Morgan Henderson (multi-instrumentalist) eventually joined the fray and, Wescott says, right from the first practice Pecknold has always wanted to progress and look for new ways of doing things. "He's always pushing himself, and lyrically pushing himself."
Some of Pecknold's greatest lines include his haunting mantra "you run with the devil" from My Protector, and on Helplessness Blues there's the powerful and lovely "gold teeth and gold jewellery, every piece of your dowry, throw them into the tomb with me, bury them with my name" from album opener Montezuma.
While Helplessness Blues has not quite had the impact of their debut it was still one of the best albums of 2011, making TimeOut's top 30 list.
"It was very much like a thought experiment: like, what is this band?" says Wescott of the time spent making the album. "You have all these ideas and sometimes they work and sometimes they don't. And we kind of developed it over the course of nine months in the studio and all those ideas reconciled down into what we felt was most true to the idea, and the one that we've been trying to refine this entire time."
LOWDOWN
Who: Fleet Foxes
What: Pastoral folk rockers from Seattle
Where and when: Auckland Town Hall, January 14
Albums: Fleet Foxes (2008); Helplessness Blues (2011)
-TimeOut