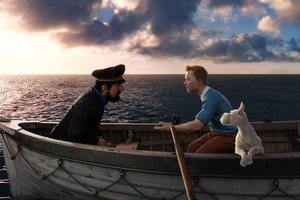 Kids these days, huh? They have it so easy. In my day, to really get the whole Tintin thing, you had to read two dozen volumes of creator Herge's collected works about the boy reporter's globe-trotting adventures. That took time and commitment. A couple hours of poring over Tintin would lead to eyestrain, fatigue and afterwards a strange urge to tuck your brown corduroys into your walksocks.
These days, it's just one visually ravishing 3D film and there you go - instant Tintin fandom in less than two hours. Where's the effort in that eh?
Yes, Steven Spielberg's decision to make this a Weta-powered motion-capture computer-animated film with Peter Jackson as producer and long-time Tintin nerd, rather than a live action or fully animated one, was clearly a good one.
It throws you into its immersive world from the get-go. Its design might be anchored in Herge's crisply rendered original artwork - neatly used in the opening credits - but it creates its own grand illusion of a richly detailed Tintin-land.
Tintin himself (with Jamie Bell providing voice and action), is neatly brought to life, expressive blue eyes filling out the black dots of the page, helping make him a fleshed-out version while still being Herge's wonderboy, the ageless smooth-cheeked chap in a world of hairy-faced men.
Here, he's at the centre of various thrilling action scenes which owe nothing to Herge and everything to Spielberg having the sort of kinetic fun he once did chasing Indiana Jones with a giant boulder - and the result is mostly terrific.
Yes, for all that, Tintin is only nearly great. Most of its drawbacks lie in departments other than how it all looks.
The script by the Brit trio of Steven Moffat, Edgar Wright and Joe Cornish draws from three adventures, The Crab With the Golden Claws, The Secret of the Unicorn and Red Rackham's Treasure. All date from World War II when Herge delivered escapist storylines in the strips to his employer, a Belgian newspaper sanctioned by the country's Nazi occupiers.
So don't go looking for any of the political edge that marked his stories before and after the war. Nor do we get the opium smuggling that is the mystery of Crab.
The plot largely relies on Unicorn's and Rackham's find-the-scrolls treasure hunt, that involves the story of an ancestor of Tintin's perpetually sozzled sidekick Captain Haddock, and a round trip from Europe to North Africa via kidnap, ship and seaplane with villain Ivan Ivanovitch Sakharine (Craig) being dastardly.
All of which would be a little more engaging - rather than just visually arresting - if the detective story had some "a-ha" moments.
Or if the comedy had some "ha-ha" ones.
But it's just a bit bafflingly unengaging on the mystery front. And even with the slapstick sideshow of bumbling detectives Thompson and Thomson, the gags are laboured. That's true too of Haddock's boozy verbal meanderings, poured on way too thick. And it doesn't help when Tintin acts as counsellor to his sozzled chum.
It's a pity that, as Haddock, Andy Serkis, in his first talking human role after becoming the mo-cap master as Gollum, King Kong and Rise of the Planet of the Apes' Caesar, proves that the cutting-edge technology can't filter out over-acting.
Still, those annoyances are soon forgotten as the film's rollercoaster ride picks up speed and another visual wonder is unleashed, especially in 3D.
Like when Tintin, loyal terrier Snowy, and Haddock are scarpering through a Moroccan city on a motorbike, armed with a bazooka, all while being chased by a breached hydrodam and a hotel which has come unstuck from its foundations ... well, that's the sort of exhilarating outlandish but old-fashioned cinematic fun this offers.
And at a rate of three books per film, it seems there's plenty more where that came from.
Stars: 3.5/5
Cast: Jamie Bell, Andy Serkis, Daniel Craig
Director: Steven Spielberg
Rating: PG (violence)
Running time: 107 mins
Verdict: Mostly great rendering of beloved comic book hero
-TimeOut