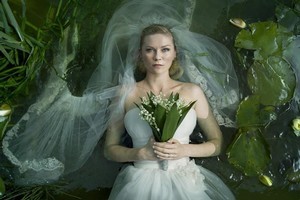 MOVIES
Iconic Danish director Lars von Trier, famous for his intense and controversial films, follows up Antichrist with Melancholia, released here today. Starring Kirsten Dunst, Charlotte Gainsbourg and Kiefer Sutherland, it contemplates the end of the world, weaving together the stories of two sisters, Justine and Claire, coming to terms with imminent death, working through their strained relationship, as a large foreign body heads on a collision course with Earth.
Also being released on Boxing Day are a sleigh-load of films including The Adventures of Tintin, heartwarming family drama We Bought A Zoo starring Matt Damon and Scarlett Johansson. Happy Feet Two is animated musical fun about the next generation of penguins, while Meryl Streep looks to be a convincing Margaret Thatcher in The Iron Lady. Albert Nobbs has Glenn Close playing a woman forced to pretend to be a man in order to work and survive in 19th century London (the supporting cast includes Mia Wasikowska and Jonathan Rhys Meyers), and Tower Heist might just be this year's less slick, more comedic version of Ocean's 11, with Eddie Murphy, Ben Stiller, Casey Affleck, and Matthew Broderick attempting to steal back a fortune they lost to a wealthy businessman's Ponzi scheme.
TV
We've finally reached the end. The X Factor USA finds its winner this week, over two shows from 7.30pm on Thursday and Friday evening, on TV3. Melanie Amaro, Josh Krajcik, and Chris Rene will battle it out for the $5 million recording contract (the largest guaranteed prize in TV history), while Leona Lewis, Justin Bieber, NeYo and Pitbull make appearances, and the contestants will sing a duet with a mystery guest. The insanity surrounding these finals is always entertaining, even if they drag it out interminably. Otherwise it's movies and Christmas specials all round (don't forget The Queens Christmas Message, TV One, 6.50pm, Christmas Day), entertaining you as you let that mountain of food settle.
MUSIC
"Got a good shirt, wear it all the time". Yep tonight there'll be some good old reminiscing at the Kings Arms when a reformed Goodshirt take the stage with Stereo Bus in support, playing favourite hits like Sophie, Lucy and Fiji, Baby, as well as a few new songs. Oh the anticipation. And if you're in the mood for rockin' out on Christmas Eve, Midnight Youth will be performing at The Brownzy in Browns Bay. Also, on Friday evening you can do your Christmas shopping and see some fine entertainment at the K Rd Christmas Carnival, taking place in St Kevins Arcade along with the Wine Cellar and Whammy Barm. Tiny Ruins will be playing her first show since recovering from a motorbike accident in Africa, along with Lisa Crawley, Bannerman, Gundry Blues, Dr Colossus, Callum Gentleman and Reb Fountain.
OR ...
Forget about screens of any description for a while (except the sunscreen) and head to the beach. That's always good value entertainment.