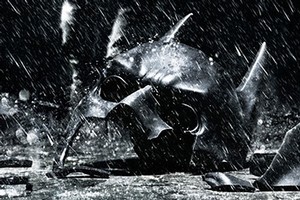 A full-length Batman trailer has hit the net, showing Anne Hathaway as Catwoman for the first time.
The new preview for The Dark Knight Rises also contains some surprises - much of the action appears to take place during the day, unlike the darkened tone used during Christopher Nolan's first two films in his trilogy.
It also appears to show a flying Batman car at the end.
"There's a storm coming, Mr Wayne," says Hathaway to Christian Bale's character Bruce Wayne in the trailer.
"You and your friends better batten down the hatches, because when it hits you're all going to wonder how you ever thought you could live so large, and leave so little for the rest of us.
Fans have been speculating that Nolan plans to kill Batman off in his film, which comes with the tagline, "The legend dies".
A new poster also shows villain Bane walking away from Batman's smashed face mask.
The Dark Knight Rises hits cinemas on July 19. Kiwi audiences can see the first six minutes of the film before the latest Mission Impossible movie.
Check out the new trailer:

To watch more, visit tag
- Herald online