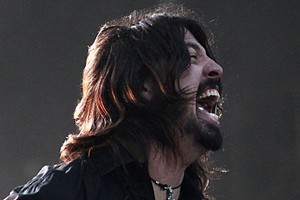 * Send us your Foo Fighters photos from last night's show here.
He played to around 50,000 soggy fans in Auckland last night, but Foo Fighters front man Dave Grohl has promised the stadium rockers will play a more intimate show next time they're in New Zealand.
The Foos played for just 2500 people at the Auckland Town Hall in March as part of a fundraising effort for Christchurch following the region's devastating earthquake.
Tickets cost between $170 to $250, and the show raised $354,903 after the band waived their usual performance fee. It ran for three hours and included all of the band's new album Wasting Light
Last night, during the encore of the band's nearly three-hour show at Western Springs attended by around 50,000 fans, Grohl told the crowd the Town Hall gig was one of the band's favourite ever shows.
And he promised the Foos would play the venue again next time the band was here.
"One of the best shows we ever played was at that Town Hall earlier this year. That was special for many reasons," Grohl said during an acoustic version of the Foos song Wheels.
"You have my f**king word that we'll play that Town Hall again ... We'll come back and play that Town Hall and you know what? We'll play for four f**king hours.
"We'll see you at the Town Hall. How about that shit?"
Last night was the Foo Fighters' final show for 2011, and Grohl took to the band's website to thank fans for their support for the Wasting Light album and tour.
"The fact that a rock and roll record, made in a garage, completely analog to tape with no help from computers, could be a #1 album around the world, AND get a Grammy nomination for "Album of the Year".....well....these days that's no small feat.
"It's truly inspiring, and it makes us feel like the luckiest band in the world. So thanks. It means everything to us."
Grohl also promised more albums and tours to come.
"We're not finished yet. There are still more shows to play, more songs to write, more albums to record, for years to come. I mean.....If you would have told me 17 years ago that in 2012 I would be writing songs for our 8th studio album....well.....
"If it weren't for you guys, we wouldn't be here. We owe you so much."
Read Grohl's full letter here.
- Herald online