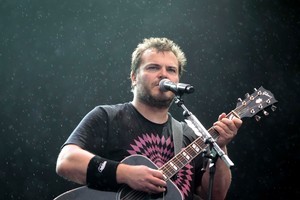 Stars of Hollywood and music came to Auckland last night and rocked on despite torrential rain.
About 50,000 fans crammed into Western Springs Stadium and braved lashing rain to see the Foo Fighters, and actor Jack Black's band Tenacious D.
Actor and comedian Black - star of School of Rock and The Holiday - opened for the Foo Fighters with his band. He has a close link to New Zealand, having been here to work in Sir Peter Jackson's King Kong in 2004.
Plastic ponchos and band t-shirts were the standard uniform of the enthusiastic but drenched fans at Western Springs last night.
On the final show of their world tour, the Foo Fighters took to the stage at 8.20pm for their one-off show. Their music could be heard throughout inner-city Auckland.
One person on Twitter reported they could hear the concert 4km away, and Cate Owen said she could hear it from Kingsland. "That's 2kms away ... Boys must be loud tonight!," she posted on Twitter.
Despite the huge crowd and the torrential rain, emergency services said they did not have any problems.
It was the second time the Foo Fighters had performed in New Zealand this year - their Christchurch Earthquake fundraiser in March raised more than $350,000.