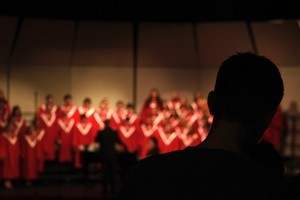 Auckland Choral's annual Messiah deserves a firm place on our musical calendar - to remind us of the unmatched power of Handel's oratorio.
Charles Jennens, who fashioned its words, called the work "a fine entertainment". This description came to mind in the first phrases of the Overture when conductor Brian Kay had Pipers Sinfonia summon up a sense of almost theatrical anticipation on Monday night's concert.
Kay is a words man, and Jennens was done full justice on the choral side, from the bouncing optimism of And the Glory to the intense sorrows of Surely He hath borne our griefs. Here, as elsewhere, John Wells crowned the chorusing with one of his grand, dramatic entrances on the Town Hall organ.
Occasionally there was a lack of fervour, as in the stolid fugue of He Trusted in God. And, splendid though the Hallelujah Chorus may have been, with its trumpets and drums, and choristers giving their all, the sopranos' inevitable ascent from D to G, three bars at a time, was an edgy experience.
Tenor Keith Lewis gave a beautifully measured performance. It would be difficult to imagine Comfort ye my people in a rendition more molto espressivo, graced with a particularly lovely airy melisma on the second "Comfort Ye".
Dean Sky-Lucas was an asset as alto soloist, cool and precise in his recitatives and lyrically pliant in He shall feed his flock and He was despised, despite some less than convincing ornamentation in the latter.
Katherine Wiles, agile enough in her Rejoice greatly, O daughter of Zion, was burdened elsewhere with a worrying vibrato, distractingly so in I know that my Redeemer liveth.
David Morriss had the unenviable task of following Martin Snell's stellar appearance in last year's Messiah.
Morriss' is not the voice to stir up fearsome Handelian storms in a large hall, but the clarity and incisiveness of his final recitative and aria, in tandem with the ever-reliable Philip Lloyd on trumpet, revealed the contribution that an Early Music specialist can make.