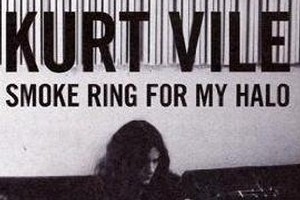 The reissue of Kurt Vile's phenomenal 2011 album Smoke Ring For My Halo sees the album repackaged with a bonus disc of his latest release, the So Outta Reach EP, and a beautiful booklet of black and white photographs - to be honest, I'd actually forgotten how nice CDs can look when the effort is made.
Smoke Ring for My Halo itself is by far my favourite album of the year. Vile invites you into his world with his seemingly stream of consciousness lyrics, self-deprecating optimism on life and a no-gimmicks-required songwriting ability.
The So Outta Reach EP starts off with one of Vile's best "ode to lover" tunes yet , The Creature. The EP is a perfect companion to the LP, a step forward and sideways, yet maintaining the same vibe - if not a sometimes little less intense than Smoke Ring. Probably worth mentioning that Steve Shelley guest drums on Life's a Beach, although to be honest I find his work on this song a little straightforward and miss usual drummer Mike Zanghi's tasteful, sprawling percussion.
For both discs John Agnello's production holds the songs together and gives them plenty of ambience and room to move, while also allowing for textured soundscapes to build, and take Vile's modern-day Americana to whole different plane.
Warm, charming and beautiful - couldn't pick a favourite if I tried. A modern-day headphone classic.
Stars: 5/5