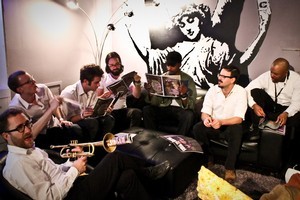 Last December Sharon Jones and her Dap Kings kicked off the summer concert season when they brought their retro-soul act to The Powerstation and left the audience in a pool of funk, sweat and stale beers. One year later it was Austin's Black Joe Lewis and his Honeybears' turn to tear down the house with their brand of Texas-style rhythm'n'blues. Lewis didn't quite have the drawing power of Jones, but the fans who did show up had plenty to cheer about.
The evening began with a sturdy warm-up set from local soul-shouter Tyra Hammond and The Bluebirds. Black Joe Lewis took the stage just after 10 pm and launched into a gritty rhythm'n'blues tune. The unassuming frontman sounded like Wilson Pickett in his prime, a cool mix of animal rawness and soulful emotion.
Behind Lewis, who plays guitar, were the six Honeybears, who include rhythm guitarist and musical collaborator Zach Ernst, bass player Bill Stevenson, drummer Matthew Strmiska and a three-piece horn section.
They were all decked out in white shirts and black pants.
Unfortunately, Lewis' vocals and the horn section struggled to be heard in the mix. That, combined with Lewis' penchant for mumbling, made it particularly frustrating to understand his between-song banter and the lyrics. But that turned out to be a minor problem and Lewis and his band got their message across forcefully with their music. After noting that there are no snakes in New Zealand, Lewis and the band launched into a version of Black Snake, an incessant blues-rocker from their most recent album, Scandalous. Livin' in the Jungle, another highlight from the album followed, and gave the opportunity for Lewis to show off his chops, playing guitar with his teeth and behind his back - not surprising given the tradition of fellow Texas guitarists like T-Bone Walker and Stevie Ray Vaughan.
But Lewis didn't depend on gimmicks. He and his band built up the intensity throughout their 90-minute set on the strength of their tight performance. Bassist Stevenson got so worked up at one point that his glasses flew off his head and landed (in one piece) on the stage floor.
The band played songs from both their studio albums along with a few covers. The most surprising came in the middle of the set, when the horn section had left the stage. Lewis led the remaining band through a searing version of The Dead Boys' What Love Is that rocked with the intensity of early Led Zeppelin. His well-deserved encore included a reading of Robert Johnson's Stop Breaking Down.
Black Joe Lewis and The Honeybears may have been something of an unknown quantity at the beginning of the evening, but anyone who was at The Powerstation that night knew who they were by the end.