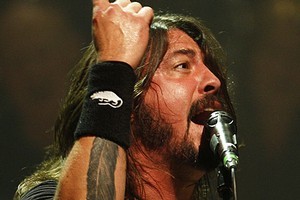 * Send us your Foo Fighters photos from last night's show here.
More than 50,000 New Zealand Foo Fighters fans are in for a long, wet night - but it will be worth it, judging by reviews of the band's recent Australian tour.
Dave Grohl and the boys are due to hit the Western Springs stage in Auckland tonight for their biggest ever show here, along with support acts Cairo Knife Fight, Tenacious D and F**ked Up.
It will be a far cry from the Foo Fighters' last performance at the Auckland Town Hall in March, an intimate Christchurch charity show seen by just 2500 lucky punters.
The tens of thousands of fans heading along tonight should pack a jacket and be prepared to get wet, judging by the Metservice forecast that predicts "occasional drizzle" throughout the day and into the evening.
A jacket is about all punters are allowed to take with them. Among the items on tonight's banned list are bags, large chains, spiked bracelets, waist packs, fireworks, cameras, recorders and light sabers.
There are no pass outs and the bar will close at 8.20pm - around the same time the Foo Fighters are expected to take the stage.
With the first support act, Cairo Knife Fight, due on at 5.30pm, fans should get there early - especially if they need to find a park on the clogged Western Springs streets.
But judging by recent reviews, fans are in for a special night.
"It is physically impossible for the Foo Fighters to disappoint live," wrote Sydney Morning Herald reviewer George Palathingal after the band's Thursday night show, calling it a "masterclass in stadium rock".
The West Australian reviewer Simon Collins agreed, saying, "All teeth, hair and rock chutzpah, it was a lean and mean Dave Grohl who hit the stadium stage with the other Fighters".
"From the first scream of, 'These are my famous last words,' the fans knew this was going to be a rock show to remember."
According to recent setlists, the Foo Fighters will play many of their hits like Monkey Wrench and This Is A Call, as well as plenty of tracks from this year's new album Wasting Light.
The nearly three-hour set also includes several covers, an acoustic section featuring just Grohl on guitar and possible guest appearances by the opening acts.
The Foos almost always end with Everlong - but this is the last show on the band's tour.
So, just like the weather, expect the unexpected.
Stage times:
4.30pm: Gates open
5.30pm: Cairo Knife Fight
6.05pm: F**ked Up
7.00pm: Tenacious D
8.20pm: Foo Fighters
Check out footage of the Foo Fighters performing Everlong at the Sydney Football Stadium:
- Herald online