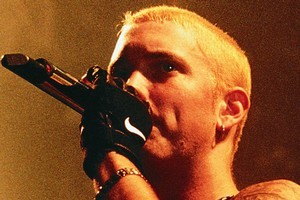 Australian music promoter Ken West says Prince and Blink 182 wanted to headline the 2012 Big Day Out.
West, who was in New Zealand to talk to media after the controversial changes made to next year's annual music festival, also said he had been chasing rapper Eminem as the show's headlining act, but couldn't afford him.
He told nzherald.co.nz both Prince and Blink 182 had approached him to perform at next year's festival, which is being headlined by reformed grunge act Soundgarden.
"We got asked over a year ago by Prince's representation to say, 'We really want to do the Big Day Out'," he said.
"At the same time we had Blink 182 chasing us for a year, saying, this'll get Travis (Barker) on a plane. Neither happened. It just kept going to the end of the line and nobody ever really said, 'No'."
West wanted Eminem to headline, but the rapper was too expensive. He recently headlined three sold out shows in Australia, performing with Lil Wayne.
"It was la la land to think he could ever do the Big Day Out, even though we offered $6 million," West said.
Several major changes were made to next year's Auckland Big Day Out, including the dropping of Kanye West from the line-up, as well as scaling back the number of stages and bands at the festival.
Fans were outraged but West said these were forced upon him after his business partner, Vivian Lees, left him to handle the Big Day Out on his own in November. The pair had run the festival together since 1992.
West's options included cancelling the Big Day Out completely, or scaling it back and making it an Australian-only festival.
"When my business partner pulled out, the show was basically over. Or was over for three days, totally," he said.
"This year was the definitely the closest to it not coming (to Auckland), because in actual fact two months ago it wasn't coming here at all."
At the time of the changes, New Zealand promoter Campbell Smith said the decision to scale back the Auckland leg came down to money.
"It's a really expensive show. A lot of costs in Australia are across five shows.
"New Zealand is a stand alone show, all the production comes here for one event. It's just a really expensive thing to put together."
West said once his business partner left, he realised he had two headlining acts for the one show and changes needed to be made.
"What I managed to do is piss off the heavy rock fans by having Kanye close (but) the Kanye supporters were quiet ... until he was off. I've managed to piss off everybody."
West admitted fans were upset, but he was excited to see Soundgarden headline the festival for a third time.
"I get criticised for putting on bands that have been on before, but they're the ones that'll go, 'Yeah sure, it's the Big Day Out. We love it, we'll do it'.
"We're really happy with Soundgarden, we owe them a great debt."
The Big Day Out is at Mt Smart Stadium on January 20. Check out the line-up and timetable here.
Check out nzherald.co.nz's full interview with Ken West:
- Herald online