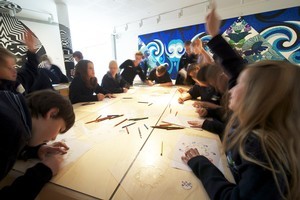 For those of you who feel you've covered the Auckland art scene this year - you've White Nighted it, Art Faired it and hung, drawn and Wynyard Quartered it - I ask you: have you taken a child to an exhibition lately?
I would recommend it to anyone who considers themself serious about art. If you don't have any kids of your own, borrow one, or even better, borrow three; school holidays start next week so there's a surplus of them around. Try to get the parents to come with you, too - the more the merrier.
The reason to visit a gallery or a museum en masse is to discuss the exhibits. What does everybody see exactly? What does the thing remind you of? Why? Does it inspire any stories? How does it make you feel?
Those questions look ickily earnest written down, but this is way more interesting to do than to read about.
"In a group, you realise you see different things," explains Auckland Art Gallery community learning co-ordinator Meg Nicoll. "I love the discussions with people with different backgrounds, different mindsets from my own." A young visitor recently told her one of the moving flowers in Choi Jeong Hwa's atrium bouquet was sad.
And while the children are learning that not everybody sees the world their way, they're teaching the adults to slow down and drink in the details. With their keen eyes, kids are often great at close observation. The gallery's family "survival kit" suggests playing I Spy.
Information about the artist's practice is important, says Nicoll, but she introduces it slowly. "People need a freeing space."
And just as looking after a child can be a great excuse to play on a see-saw, it can also give grown-ups permission to create their own meanings for artworks without fear of what the "experts" might say. Or even to create their own masterpieces - the stencils and pencils in the gallery's welcoming learning centre are free for anyone to play with at any time (whether accompanied by a child or not).
Auckland Art Gallery's hard work is paying off and it's an inclusive, all-ages environment. It's true that my 7-year-old flatmate would prefer the balcony "rollercoaster" she enjoys playing on to be purple rather than the supposedly more sophisticated all-white, but even so, she knowingly suggests that: "White is more 'design-y'."
A Kids in Museums charity in Britain aims to make cultural institutions more child-friendly. Frowny museum guards are a "First World problem", surely, but the charity's manifesto includes some good recommendations, such as flexible family tickets and gallery staff who will explain why art works should not be touched, rather than just getting cross.
Assessing our own institutions and art events by this wish list shows what a great place Auckland is for mixing children, adults and art. Last month's Art in the Dark at Western Park was a delight, with its dancing bicycles, flying angels, wet rainbows, miniature cities and "slides on slides" (projections on playground equipment).
And it was free. So are our public galleries and museums - apart from Motat, and even then, at $65, a family pass for two adults and four children costs less for the whole year than taking the same people to one movie. And that's one Christmas present which won't create another first world problem: the overflowing toy shelf.